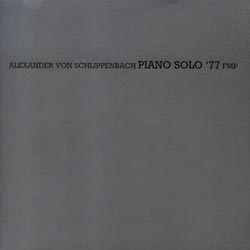 The reemergence of the German label FMP — if so far only as an archival/reissue imprint — comes as more than welcome news. Among the first round of new issues from this label is a fine set of early solo pieces by the great Alexander von Schlippenbach. The pianist is heard here in a state of youthful, perhaps even desperate, exuberance over the course of four pieces, close to 50 minutes in total.
In his brief liner notes, newly written for this release, von Schlippenbach writes, "I was able to really focus, pushing my playing forward and taking myself right to the edge with regards [to] my improvising capabilities." The four-day recording session in 1977 was undertaken in the basement of a Berlin youth club, where he was able to install his own grand piano. The windowless room became a cocoon for his explorations, and the sense of discovery with which they were made is apparent upon listening today. There's an energy to the playing, one too easily compared to some of Cecil Taylor's solo recordings of the same period, but it's quickly recognizable as von Schlippenbach as well, with knotty melodies and implicit structures.
He continues in his notes that he hopes his "feeling of moving on" comes through to the listener as it did to him listening back 30 years later. Wanting to move might be a bit of a personal aim to come through on record, but the drive that was behind it is more than present.
Comments and Feedback: