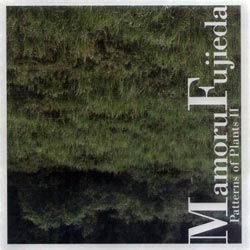 The notion of "plant music" could almost be taken as a goof on minimalist composition, but Mamoru Fujieda takes the concept quite literally. His second set of pieces recorded for Tzadik uses electrical patterns picked up in living plants to create values for notation. With such a source, the five suites here end up delicately metrical.
On his previous Patterns of Plants recording, Fujieda employed koto, sho, viol de gamba and harpsichord, although the pieces have been performed with a variety of instrumental arrangements. Here he employs violin, sho and a pair of kotos in different arrangements. In the liner notes, Fujieda cites Lou Harrison and Harry Partch, and the simple beauty of the pieces shows their influence. The small structures have an appealing ease, with neither foreground nor background but just fragile geometries, like audio origami — the instrumental voices complement each other without dominating. As such, the music also works as either foreground or background. The shifting shapes can be appreciated upon close listening or left to decorate the environment, like a flower arrangement at the center of a table.
It's hard to imagine what sort of music plants might make, but Fujieda's careful consideration makes for a reasonable suggestion.
Comments and Feedback: