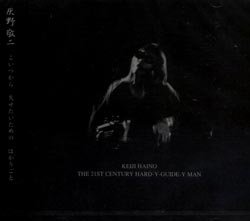 Extreme guitarist Keiji Haino's forays into multi-instrumentalism in recent years have been interesting to hear. His talents have never lied in technical proficiency but in an absolute commitment to his artistic vision, so when he adopts percussion, non-Western strings and electronics, it basically amounts to new shades of his trademark black. At the same time, however, 35-plus years into his career he has started to admit more sensitivity, more musicality, into his heavy aesthetic.
The ancient hurdy gurdy — a sound chamber containing a circle of strings (some pitched with keys, most sympathetic) bowed by a wheel turned by a crank — is one of the first instruments he added to his arsenal, as evidenced on the 1995 album Twenty-first Century Hard-y Guide-y Man on PSF and then on the 1998 Tokuma release Even Now, Still I Think. The instrument has shown up since in performance and on disc, but this is his first album dedicated wholly to it in a decade, and the maturity in his newer work is made clear by comparing it to those previous albums. Rather than a single piece pushing the instrument to bone-rattling limits, Koitsukara Usetaitameno Hakaragito contains five tracks of between 10 and 20 minutes which show a notable diversity. The strings wail and scream much of the time, of course, but percussive strikes and delicate plucks are coaxed across the instrument's length, at times with a haunting beauty.
An artist with such a singular vision as Keij's is easy to earmark as unchanging, especially given the large number of number of nearly identical looking albums (this one goes with the mostly black rather than the all black). But as with his recent acoustic guitar albums, this new collection affords an opportunity to hear his darkness in a new light.
Comments and Feedback: