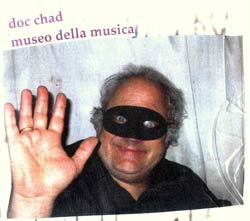 Eugene Chadbourne is a 21st century troubador, a modern day version of the old bluesman traveling the endless highway with an ever-evolving songbook and recording where he gets the chance. The difference is, where the Littles and the Blinds did sessions for an array of regional labels, Chadbourne owns the means of production. He doesn't, however, let that impede on the time-tested working process. His self-released CD-Rs are, at times, less definitive documents than updates, reports back on the latest developments in recent interests as well as songs he wrote 20 years ago.
Is it a good business model? Probably not. The old bluesmen were recording the same sets over and over because records rarely had more than regional distribution. But his business is no one else's affair. As long as he's wiling to stay out in the barn burning discs and pasting together covers, we're free to check in as we please.
Other things happen out in the barn too, however, and along with his not-to-disparage litany of pick-up groups and improv meetings come true surprises. Museo Della Musica has some familiar tunes, a few even stretching way back to the '80s ("Evil Filthy Preacher," "Boy With the Coins," "Our Daily Lead") as well as some newer pieces (Wino's "Pop My Trunk"), but what's most notable about the latest Chadula issue is that it continues his recent multi-track recording of songs. However familiar the tunes, this is a new kind of Chadbourne record. He plays all but everything heard (guitar, banjo, and organ, and some fantastically fuzzed out bajo sexto basslines), with Walter Daniels contributing harmonica and slide whistle on one track and a backup band on another, but the real interest is hearing the his style exploded into multiple parts, his brain as ensemble. His songs can be unsteady, slippery in the way John Lee Hooker was at his best. A back up band can only slow them down (or speed them up). The familiar, loping "Land of Use to Be," for example, reveals itself as a straight-up ballad. It's fascinating and fun to hear his sensibilities fleshed out.
Not that the record's all from the Land of Use to Be. "Roll Over Berlosconi" is a rock'n'roll rave up cum Italian politics. And "Birthday Song" is one of his smartest, most thoughtful world-gone-wrong songs. There's always something to be found in the updates from Chadula, but this one stands out.
Comments and Feedback: