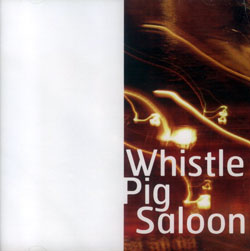 There is an ongoing tradition in academic electroacoustic music: over thinking and too much talk. Composers spend months of preparation for a piece, forming a system and working out every detail to eschew errors and exert control over the processes of a once-exciting creative spark. This occasionally works, but more than naught — even with the elder statesmen of the genre — these factors equal a sterile homogeny and a lack of happy accidents and exciting miscues that lead to attractive tangents. Because of the complexity and otherworldly nature of their sonic palette, many then feel the best way to connect (aka apologize) an audience to their universe is through lengthy extra-musical programs that break down the results. Unfortunately, this desire ultimately stunts the mystery an audience could feel while mentally interpreting the work.
Robert van Heumen and John Ferguson, however, prefer to withhold their agenda, leaving listeners free to enjoy and translate this almost-palpably visual, cerebral yet immediately mesmeric work as they see fit. With that, to say "the duo launches into their set" is a fitting metaphor, as this music exudes the grace and violence of a NASA enterprise: at times lingering in static poses on the dark side of the moon, other moments crashing face-first into the sun. On "Perpetual Mole", shimmering, hammered, pitch-bending guitar chords hover above barely-registered high frequency blips and swirling bursts of hiss. Soon, all systems are go and the music literally blasts off, mangling the digital limit and overwhelming the soundboard with psychoacoustic mischief (the passage will make you look up and wonder — one, who put a pack of dogs on my roof? and two, why are they stomping? — before settling into a floating gesture of pops and echoing harmonics. After a mountain of sub-woofer rumbles and ear-drum-piercing feedback — a clamor definitely heard inside a shuttle's boosters — Ferguson interrupts "Somatic Listening" with a naked, jazzy excerpt of "Blackbird", a phrase van Heumen immediately aborts in favor of more thunder; interestingly, the duo repeatedly skews the line of "what is tension, what is release", and you find yourself more uneasy and rigid during the quieter, representational moments.
The two continue in this fashion throughout the disc, reeling off an endless host of keen, compound sounds with an inimitable familiarity of their technique and each other...but wait? What exactly are they doing? Sure van Heumen could offer countless diagrams of his joystick-meets-laptop method in the liner notes, and Ferguson's unique anti-guitar attack deserves an explanation, but the duo prefers to let their demanding "I can't do anything else but stare at the speakers while this is on" music draw up schematics, construct the diorama and tell the stories.
Comments and Feedback: