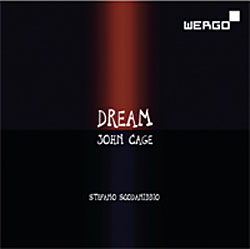 Bassist Stefan Scodanibbio conducts and performs five wide-ranging works of Cage and the results are extraordinary. The pieces chosen represent as encompassing a selection as one could ask for on a single disc: "Concert for Piano and Orchestra", "Freeman Studies n. 1-5 (for solo contrabass)", "Dream" (arranged for piano and contrabass), "Ryoanji" (for contrabass and tape) and "Radio Music" (here played by five "radio performers") .
The "Concert for Piano and Orchestra" was written in 1957-58 with David Tudor in mind. Here the pianist is Fabrizio Ottaviucci, accompanied by a miniature chamber ensemble: two winds, three strings and three percussionists, conducted by Scodanibbio. The score is very open-ended, each instrumentalist's part composed via chance operations, each performer instructed to create a personal system that tells them how long to play, when to enter, etc. The conductor is charged with keeping things interesting, not allowing too easy unisons, speeding up or slowing down the proceedings in an effort to keep the players on their toes and out of ruts. The approach works marvelously, never letting matters get too dry but also never allowing them to spiral out of control, managing to keep a loose kind of web surrounding the anarchy, a fine balance. A self-consistent mini-world is created, rich in timbral and dynamic variation, endlessly surprising and captivating.
The "Freeman Etudes" were originally written in the late 70s for violinist Paul Zukofsky with an unusual social aspect to them: Cage wanted to reflect the societal and cultural difficulties he perceived in the world at the time and the consequent malaise felt by many in the face of these problems. He figured if he wrote a piece that was incredibly difficult to perform, the audience would take heart upon hearing these thorny problems overcome and possibly apply that lesson in the "real world". Thus, the Freeman Etudes are quite a challenge for a violinist; how much more so for a double bassist? Scodanibbio, unsurprisingly, pulls it off with aplomb and grace, maintaining a light touch and dancelike attack. The work's relative astringency contrasts well with the preceding feast — the entire disc is sequenced very nicely — and leads into one of the special highlights of the recording, the 1948 composition, "Dream". At this point in Cage's career, one can still hear misty echoes of his preoccupation with Balinese gamelan, though that music has been diffused into a general atmosphere that's, well, dreamy. Beautifully performed by Ottaviucci and Scodanibbio, the piano lines also carry a Satie-like flavor, melodic and nostalgic, underlined by the bass' deep, somber arco. It's an extremely evocative piece, one that admirers of the Sonatas and Interludes for Piano will love.
"Ryoanji", written in 1983 and revised in 1985, is rendered here via double bass and tape, the sense of calm moved out into open space with the gentle tolling of a temple bell and Scodanibbio's multiple, elegiac lines twining through the air, sometimes even conjuring up whale song. It's both wonderfully meditative and yet earthbound, with a mournful aspect that's nonetheless at peace with its condition and a sense of time-suspension that's miraculous. In a final, delicious twist, the disc concludes with "Radio Music" from 1956. Judging the "quality" of such a performance might be a fool's errand, but this one works superbly, establishing a rich matrix of verbiage, music, feedback and static. It's full, vibrant and fascinating.
Comments and Feedback: