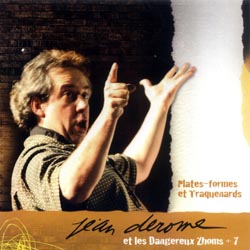 Within the eclectic arena of Montreal's Ambiances Magnetiques collective, Jean Derome is one of the strongest and most consistent voices. He is also one of the biggest jazz devotees in the group, making him — within the context of his adventurous cohorts — something of a traditionalist. He has a long-standing Monk tribute group. He plays saxophone, for the love of Pete. And, unlike the neo traditionalists, he reliably contributes to the tradition.
Along with Evidence, his Monk project, les Dangereux Zhoms is one of his longest-standing groups. The quintet been on hiatus for a while, but returned to the 2008 Festival International de Musique Actuelle de Victoriaville more than doubled in size and with two of Derome's most ambitious works to date; The pair of long suites made full use of his unusual jazz band plus viola, electric guitar and turntable, a big 12-tet that embarked on the Canadian festival circuit in the summer of 2009. And where Derome has an avowed love for Monk's music, here he came off as a modern day Mingus. The big band is employed to sweeping, cinematic effect, with changes in mood and dynamic underlined by strong themes and, crucially, the rock solid foundation of Pierre Cartier on electric bass and Pierre Tanguay on drums.
The tight adherence to structure allows Derome's band, over the stretch of two 30-minute journeys, to go out while remaining in. Early in Plates-formes, an overtly lovely Guillaume Dostaler piano solo is interrupted by electrical buzzes and static. It's not quite funny, but in that peculiar Ambiances Magnetiques way, it's charming. And more importantly, within the structure Derome has built, it makes sense (or, at least, is made to make sense as the piece progresses). Likewise, a blistering electric guitar solo by Bernard Falaise or the outre vocalizations of Joane Hétu are force-fitted — without smugness or irony — into what remains a pair of works of jazz classicism. Victo's reliably warm and present recording ensures that the breadth of the work is never lost.
The performances captured on Plates-formes et Traquenards are dedicated to Productions Plateforme (FIMAV's parent organization) and the Montreal production company Tranquen'Art, both of which celebrated their 25th anniversaries in 2008, as did Ambiances Magnetiques. Clearly something was in the Quebecois air in 1993. Derome has issued a fantastic, and fitting, response.
Comments and Feedback: