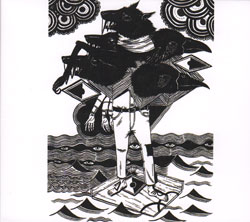 One way of describing this new release by this Vancouver quartet would be a ballads album for head-bangers. The first couple of tracks lull you into a real sense of security, but the restful state is not without its disturbing dreams, when the first of several nightmares kicks in at track three with "Over it Begins," as J.P. Carter's trumpet, trumpet and Dave Sikula's guitar share shredding duties over the ostinato bass and drums (Pete Schmitt and Skye Brooks) that spin a maelstrom of emotions before its lullaby ending tells us all's still well. As we dream on, we get more of the sturm und drang juxtaposed with tranquility and even a quixotic Kenny Wheeler-esque "What about the Water?"
Carter's distinct, at times sharp-edged, at times serene trumpet tone is one of the most engaging aspects of the group sound, but his concept grows out of the high-energy atmospherics his band mates put out. The most "normal" trumpet playing happens on "Whistling Pass," which sounds a lot like a jazz waltz where Carter builds some buttery modal jazz lines reminiscent of the Miles Davis school. This is followed by a full blast slap in the face with "Let Youth Be Served," which reminds us that, yes, this is another generation 60 years since Kind of Blue, and a lot has changed.
The most interesting aspect about Inhabitants is their eclecticism: even while the music sounds contemporary, with the swirl of styles — jazz, electronic, drums and bass, metal, noise — it comes out as post-modern improvisation with a poetic sense of its own. The tunes are lines upon which the quartet hang some very visceral and engaging musical painting, all ending with the clear fluid melody of the closer, "Pacific Center" bringing us full circle to a lulling melodicism that is disarming in its simplicity, and by that token, all the more powerful — but it's also a big rock ballad with a concise minor pentatonic melodic cell that ends the dream in a truly epic manner.
Comments and Feedback: