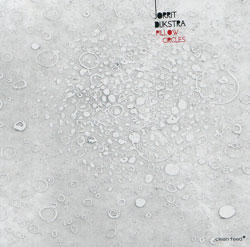 The title of this collection of compositions that serve as improvisation vehicles, with its connotations of lullabies and slumber, is the hardest thing to figure out in this octet session led by the Dutch alto-saxophonist Jorrit Dijkstra. Certainly the music is not a problem to understand and enjoy, as it slides down so smoothly, with its appealing melodic contours and robust arrangements and improvisation.
The most distinct thing about Pillow Circles is its sinewy and octet instrumentation, with reeds, strings and percussion that blend superbly, from the opener, "Pillow Circle 34: for Henry Threadgill" whose theme recalls the twists and turns of George Russell's "Ezzthetic," a precursor that resonates as a mid-20th century prototype of the kind of music jazz has morphed into, whether the mainstream jazz radio and festival world has caught on or not. The same orchestration persists throughout in these "Pillow Circles," each dedicated to a different musician.
Reedists Dijkstar and Tony Malaby play a variety of instruments, with lyricon, analog synth and "crackle box" added to the leader's alto sax, and Malaby switching gears between tenor and soprano sax. These two front-line voices are fortified very nicely by Jeb Bishop's urbane trombone, and the pleasant entanglements of strings provided by Oene Van Geel's viola, Paul Pallesen's guitar and banjo, Raphael Vanoli's guitar and Jason Roebke's bass. This blend stands out in lines with lots of pluck and positive insistence, whether in the quiet moments in a piece like "Pillow Circle 18: for Fred Frith," or many of the more momentous and dynamically active pieces of the nine cuts that make up this disc. Setting the mood or responding sensitively, percussionist Frank Rosaly is a versatile accompanist, able to deliver the steady but subtle rock feel of some of the passages, as well as the more aleatory, musique actuelle moments.
As a composer, Dijkstra is someone who knows how to write for the people he hires to play his music, but he also seems to allow lots of room for the spontaneity of the meeting of musicians to happen. The improvising, buttressed by some solid pre-composed ideas, are a big part of what make this release worth the listen.
Comments and Feedback: