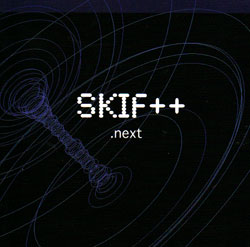 A trio of laptoppists that more than one review compares to rockstars, so well regarded are they. However, Jeff Carey, Robert van Heumann and Bas van Koolwijk make a kind of music most unlike a lot of laptop sound. The first and last improvisations here are rapid successions of sounds and textures that are difficult to process, memory being of no aid. The dizzying parade of howls, chatterring, warbling tones and grainy clicks can be quite jarring and very alien sounding. At the same time, things move so quickly that the chance of becoming bored is almost nil.
The longest track here ,"thinner" (indeed!), slows things down considerably, and takes its time assembling a more careful and cohesive statement. Sounds hang around longer and transform more slowly, starting from a base of winds and insectile chirping. There's a bit of that weird heterodyning effect that's often on evidence with digital sound, and in this context it adds to the overall coldness of the music, one that could only be made with technology. This is not a criticism of SKIF++'s work, indeed one of their stated aims seems to be to expose the sound-making and altering devices for what they are, and even turn them against themselves, bringing to mind all manner of philosophical ponderings perhaps better left to others. I prefer to listen as the sounds uncoil out of the speakers. A mid-section of quiet beeping and gentle burble/crackle is particularly nice, even more so as it hangs around for a while. I was often reminded of recordings I've heard of sound from space, albeit a bit more unnatural sounding, no doubt due to the machines involved.
The liner notes state Bas van Koolwijk's contribution to be "interactive visuals", and are described as an integral part of the live performances by SKIFF++. I had to wonder then why said visuals are not represented on this release except as cover graphics. A trip to their web site gave me an example of van Koolwijk's contribution. I cannot say at this point whether the music was any better or worse with the graphic representation of the sounds, just different, giving the mind a different context, rather like an odd cross of a scientific display and a feature film for robots.
Comments and Feedback: