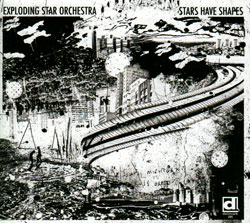 New Jersey-born / Chicago boy / São Paulo-based Rob Mazurek began as every aspiring trained trumpet and cornet player born after 1960: you learn hard bop. However, unlike many who settle into this athletic genre as a lifestyle, Mazurek kept moving and created his own voice of traditional jazz, improvisation, post-rock and laptop experimentation — it's no surprise that he works with Tortoise and Stereolab.
Stars Have Shapes is the album Miles Davis would have made had he joined forces with Pauline Oliveros and realized his "electric period" a decade earlier. Present in these four pieces (two long, two brisk) are electronics-mulched environments, tone boxes and acoustic instruments, all tied to a slideshow of bebop, hard bop and almost standards. True to the title, "Ascension Ghost Impression #2" commences with a casual, whistling melody, one that soon summons a host of spirits: Jeff Kowalkowski's hands gently running the length of the piano's range, Jason Adasiewicz's vibraphone working as wind chimes, Josh Abrams' bass notes reaching, Nicole Mitchell's flutes pushing higher, all of this manipulated into an echoing flange by Mazurek's real-time "electro-acoustic constructions". Just as the trance takes affect (sic), the ensemble begins to abandon pleasantries for cacophony, though all players still continue the initial creeping gesture with shoulders against the blitzkrieg; the eye reaches your ears, dispels, and now we're into almost cozy Gershwin-style big band orchestration, albeit a counterpoint against the abstruse sounds (i.e. impolite whistles, gurgling mouthpieces) knocking at the window of the mix. The sweetness is short-lived, and the work's arc dips into a scattering descent — and dissent — like marbles tossed down a well. The five-minute "ChromoRocker" races along in 12/8, bass clarinetist Jason Stein holding the reigns of three drummers (John Herndon, Mike Reed, Carrie Biolo on gongs and trash percussion) with a swinging, peppered ostinato while his team mates jam across the stereo field.
Even without reading that some of Mazurek's field recordings arrive via "rain from the Brazilian Amazon, insects at the turn of an eclipse", the introduction of "Three Blocks of Light" recalls David Tudor's rainforests: a shimmering, percolating fog covers the acoustic players', agitating to turn their placidity of fragmented melodies to restless flares. With the foreground settled into a murky drone (it barely deviates for the next eight minutes until fin), Mitchell changes continents with a gagaku-inspired solo of piercing overblown and bent notes, this being the last official attempt for the piece to move forward or simply to dig out from underneath the constant purr. This isn't a criticism, just an observation of the slightly jarring juxtaposition of meditative hum and everything else trying to shake its peace — what else do you expect from trouble-makers who refuse to accept tradition?
Comments and Feedback: