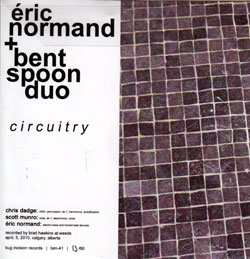 A really intriguing, albeit short, set of kitchen sink improvising from the long-standing Bent Spoon Duo with added friend Eric Normand, who stopped in Calgary, Alberta Canada during his tour last year just long enough to hook-up with Chris Dadge and Scott Munro and stamp some sonic impressions into people's ears and this disc.
A bit difficult to describe in a few words, this music has the always-admirable quality of fusion, wherein the sounds aren't readily definable or attributable to any one player. Some bits resemble swarms of insects in close proximity while a nearby construction crew winds down for lunch. Things happen rather quickly, and even when the trio stays relatively static there's a lot of tiny variation happening, sounds colliding and glancing off one another in a myriad of ways. Things billow up and recede often enough that if your mind blinks, you'll miss something.
About 13 minutes in someone starts bowing on some kind of string instrument and is quickly enveloped in clouds of electronic gook and honest-to-goodness B-movie echoplex. Then someone is beating on some metal tins with springs attached as a far-off radio gargles. Some quiet wind storms and a stately march comes from a toy record player in the next apartment complex while a frustrated guitarist hacks away at some tiny strings. The insects swarm again, along with an army of tapes fast-forwarding toward their end. Thankfully, the guitar stops and some quick drumming ensues to backup the loopy mangled voices. A trombone? An actual bass? And then they're a more than slightly off-kilter JAZZ trio, like a Dixie Land player trying to lay lines atop a free jazz bassist and a modern British drummer, with slight Jamie Muir-isms amid the flight.
I can imagine that this sort of thing goes on almost nightly somewhere in the world, but not where I live, so I'm happy for recordings like this one, as short as it is.
Comments and Feedback: