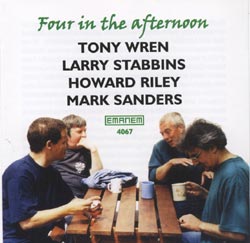 London may be one the creative epicenters of improvised music since the '60s. The number of individuals and collaborations that were spawned in this relatively self-contained environment place it in a league with jazz Meccas like Chicago. And like the Windy City, and unlike New York for example, the musicians working in London all wanted to work together and did. Since the '70s, deaths, the call of continental Europe and the States and normal fragmentation have somewhat diminished what is produced in London (again, like Chicago). However, plenty of vibrant and creative folks neither left nor left behind their abilities to make compelling albums. Emanem, which assiduously records older and newer generations as well as releasing lost sessions, is single-handedly pushing English jazz onto the world dance floor, confident in its ability to dance and find willing takers.
Four in the Afternoon will certainly help a dance card. Two underrated yet extremely significant Brits give the album its clout. Pianist Howard Riley's albums of the late '60s were hallmarks of the avant garde, a course he maintained through his career of solo albums and numerous collaborations. Saxophonist Larry Stabbins is best known for his work with Keith Tippett but is of the finest tradition of English reedmen, most of whom he is undeservedly passed over for. Ably supporting the two (though this is a poor description since Four in the Afternoon is a group album that cannot function on any footing other than equal) are bassist Tony Wren and percussionist Mark Sanders. This is ostensibly Wren's project though the four work without egos and produce a fiery session that is wholly organic and interactive.
At first, the idea of Howard Riley playing a freely improvised session was troublesome since he is a remarkable composer. Nevertheless, his approach to music is consistent. He thinks compositionally and his playing comes off as firm and not lacking in direction. Simply put, Riley always knows what he is doing. Stabbins, who is equally adept at long, melancholy tones as violent honks, is a good foil to Riley, the two effectively filling each other's spaces. Wren continues the path of elder British bass statesman Barry Guy as a confident bower but does not jump into the forefront. He is content to play what he thinks will complement the others and let you be impressed when you take the time to focus on him. The same can be said for Sanders, who never pushes the beat further than it should be pushed. There is a sense that all four musicians, though very much in control of their music, are really discovering it as a unit while playing, a team approach that lacks the obtrusive violence of some free sessions.
One of the strongest points about the disc is its visitation to all points on the musical compass. The slower portions have an elegance about them, a maturity and grace oft lacking in the smash-mouth world of the avant garde. And when it is time to let loose, it is done with precision, no fear of the moment breaking down. The improvisations throughout maintain their energy level, be it soft or aggressive. This is a mark of musicians with definite ideas about a session. The second and third tracks, frenetic and reflective respectively, exemplify this concept across almost 30 minutes of abstract beauty.
The finest moment comes out in the closing track, "Transcension". The piece begins with the slightest mallet work and upright bowing. In a manner similar to the Australian slow-improv trio The Necks, the minimal theme is gradually explored, Riley coming in with mild flourishes, the momentum building at a deliberate pace. Stabbins does not even play until half way through and then with reserve. Slowly the trapping are cast off and the piece, after the mountainous rumblings increase and the villagers are struck dumb with terror, erupts with a volcanic fury that is all the more effective for its subtle beginnings.
Comments and Feedback: