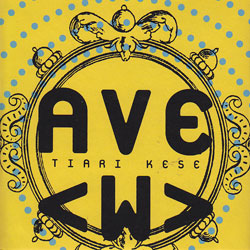 There is a 99% chance that Tiari Kese is in fact Michel F Côté; but let's run with the mythology, as it's as wistful as the music.
Kese, a Bulgarian piano prodigy, began his career at age seventeen under the tutelage of Stockhausen, the latter composing a set of Klavierstücke just for him — and that's Kese posing as Stockhausen on the cover of Sgt. Peppers Lonely Hearts Club Band. He later became a world-class interpreter of Satie and John Cage (Cage also wrote pieces specifically to be performed by Kese). However, he didn't begin recording his works until meeting Côté who serves as a performer on, producer of Ave .
And he also plays the French horn!
Fittingly, Ave is a murky, organic concrète based on shadows and slight of hand. Kese's source materials consist of various room ambiences strung together with juxtaposition, piano and trumpet (performed by Ellwood Epps) that come in and out of focus (turn up the music during moments of seemingly inactive sound clouds and track fade-outs or you will miss something) and Côté's shimmering electronics, his penchant for overdriven microphones and the occasional thump; the percussion is less frantic than some of Côté's oeuvre, but acute and intense like the sounds one would make while trying to claw out of a box. On the fourteen-minute opener ("Unit Vector In Vratsa"), these elements weave together, Kese's Debussy-esque planing (sic) and Côté's mechanical piston sounds serving as signposts to tie the form together. "Бойко Борисов" is an intricate drone journey from light to bright to dark to midnight; the last word resembles the reverberation of a piano slam, though heard in slow motion. The hints of rudeness from the first work are exploited on "Marge Brute Du Ƒ": accompanying each piano note and chord is a slightly delayed, highly screeching burst of feedback to counter Kese's tender procession; counterpoint ensues, a dry reversed series of notes and a fog you have to squint your ears to enjoy enter the fold, and the ostinato ends carried by the synthetic child of acoustic keyboard and feedback parents. From here, the pieces fold over in a palindromic fashion, culminating with "Reichmann Sum For S", a finale that pays homage to the opening theme, then filters it to the background to make room for a string quartet coda, everything eventually unraveling into a sighing, steamy hiss.
From a horoscope blog:
"A dream of playing the piano yourself predicts success in all your plans and hopes, unless the instrument was damaged or out of tune, in which case you can expect some difficulties and delays along the way. If you dreamed of hearing piano music beautifully played by someone else, it is a promise of better financial times ahead."
Difficulties, delays and success: per usual, Côté's imagination turns out all these things.
Comments and Feedback: