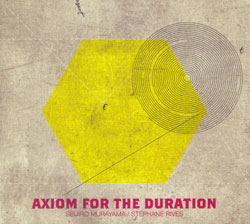 The most arduous piece of Yoga isn't the motor skills or strength training learned to execute thorny poses: it's the first moments of meditation where you sit still and flush away job and daily life concerns in preparation of the practice; unlike a warm bath, or a sedative, or anything that requires no effort to fall into, this may be the first time in days when you headlock your mind into submission, coercing yourself to stop, physically and emotionally.
If we reduce the hour-long (divided into three movements) Axiom For The Duration to "drone music" — and extended passages of circular breathing, rationed materials, bowed cymbal / cymbal rattled over a snare drum qualify that label — when compared to Eliane Radigue or La Monte Young, we face a similar situation. While the music of the latter two is often a feeling of peace, the construction and sonic choices of percussionist Seijiro Murayama and (soprano) saxophonist Stéphane Rives are aurally turbulent, resembling the insect colony and not-so-obvious activity of the root system beneath a forest. Or you could say these two are the chugging boiler room where the placid babbling brooks end, are digested then repurposed.
For the first thirty minutes, Murayama sticks with bowing, each stroke propelling the work with a pulse-like foundation. During this time, Rives pauses less than a handful of instances; when in motion, his register stays high, and the emotional harmony of listener and player fuse where the former finds himself holding his breath at slight dips in pitch extending from Rives' pumping lungs. With staggering patience, the duo grapple with theses gestures, Murayama eventually reducing to a metallic whisper before another fifteen-minute build that finds both players simultaneously engaged in the hypnotic, warbling high note of the work. During the last six minutes, they gracefully flake apart with Rives digging into a guttural squall and Murayama coaxing thunderous drum head vibrations. When the percussionist has had enough, he shifts into a comparative flurry of harmonics and nervous wriggles, like a spinning top that refuses to take it's last tumble.
Call it Macro Minimalist / Micro Maximalist, this is not immediate music — which, as with most things you have to work with before embracing, makes it a memorable standout in the history of the genre.
Comments and Feedback: