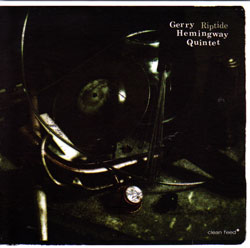 A quintet with two horns and a rhythm section is a classic jazz lineup, and drummer Gerry Hemingway has long been enamored of this traditional form. In fact, for the past twenty-six years, Hemingway has reformatted his quintet several times, with earlier members including notable musicians such as clarinetist Don Byron, trombonist Ray Anderson, and bassists Mark Dresser and Ed Schuller. The latest incarnation of his quintet features Oscar Noriega on alto sax and clarinets, Ellery Eskelin on tenor sax, Terrence McManus on guitars, and Kermit Driscoll on acoustic bass and electric bass guitar. Their new release Riptide is a joyful CD full of beautiful music, nine multi-textured compositions by Hemingway that shine bright as the sun.
A few songs deserve special mention. The title track "Riptide" is extraordinary: the song starts off with wild, rollicking energy that does in fact sound like the sea, a clattering of shells in a swirl of liquid energy. It's an interesting arrangement where the horns provide steady accents and the guitars stretch and dance over them. All the soloists cut loose, with the saxes bending and soaring on bold, shifting runs, and the guitar and bass unfurling deep discordant chords, urgent and wild and tidal.
"Meddle Music" is a fabulously funky tune. Again it's an interesting arrangement, with McManus keeping a steady drone under the horn's tight front line. After the initial melody, the song breaks into a kind of abstract funk, with Hemingway and Driscoll shifting the rhythm at will. For those who enjoy the power of the electric guitar, McManus' solo is a powerhouse; he cuts loose and dives into discordance and feedback with complete freedom.
The CD's special gem is the tune "Backabacka." Liner note writer Brian Morton calls the music "heterodox kwela," referring to the South African street music known for its skiffle-like beat. The song has a spritely melody and a light, playful swing, and all the musicians play their hearts out. It's an immensely pleasing song that radiates pure joy; this is the one to play on a rainy day when your spirit needs a boost.
In addition to the excellent music, mention must be made of the insightful liner notes by Brian Morton, who is perhaps best known for his work on the Penguin Guide to Jazz series. Here Morton shows everyone how it's done, weaving a charming narrative that helps the listener to listen and appreciate the music at hand.
Hemingway's quintet is certainly capable of a multitude of moods and genres, and altogether Riptide is a rich, unusual CD, a treasure of sounds and rhythms and dancing lines. And Hemingway proves once again that tradition doesn't necessarily mean stale, witness the fresh breath he infuses into this classic jazz lineup.
Comments and Feedback: