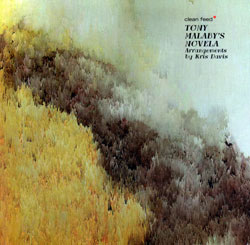 For his new CD Novela, saxophonist Tony Malaby made an interesting choice: he decided to cull six of his compositions from previous releases and present them afresh. This time he's working with a new set of musicians and has greater intimacy with the tunes, but the biggest difference is that each piece has been given a fresh arrangement by pianist Kris Davis, who has channeled her inner Gil Evans in order to create exciting configurations that make the songs shine anew.
Malaby has plenty of experience playing with larger groups, including Charlie Haden's Liberation Orchestra and Paul Motian's Electric Bebop Band, and this knowledge has clearly informed his facility as a bandleader. He elicits excellent performances from Novela's mega-powerful nonet, a group composed of Malaby on soprano and tenor sax, the excellent Michael Attias on alto sax, Andrew Hadro on baritone sax, Joachim Badenhorst on bass clarinet, Ralph Alessi on trumpet, Ben Gerstein on trombone, Dan Peck on tuba, Davis on piano and conducting, and John Hollenbeck on drums and percussion.
The first song, "Floating Head," exemplifies the virtues of this CD. The music is fast, bold, and powerful, the arrangement full of delicious swoops of impeccably synchronized instruments. There are many delightful layers of sounds and textures in this song, many unexpected accents and shifts, but although the music is positively thick with ideas, everything is still tastefully executed. One of the pleasures of this piece is hearing Dan Peck's tuba, an instrument that eminent arrangers such as Evans and Claude Thornhill used with great inventiveness; the tuba creates a rich bottom for the entire piece, stretching both the song and the listener's ear. Davis is fabulous on piano: her angular, agile approach keeps the music on its toes and ignites the entire tune.
Mention must also be made of the excellent "Warblepeck." It's a playful, lilting song with funky sax work by Malaby and fabulous percussion by Hollenbeck. The arrangement incorporates a marvelous polyrhythmic drive, and includes some wild slippy-slidey horn work that creates a positively joyful cacophony.
At the first public performance of his Birth of the Cool nonet, Miles Davis broke tradition (as usual) by insisting that the sign in front of the club read: "Arrangements by Gerry Mulligan, Gil Evans, and John Lewis." Likewise, it's impossible to extol the virtues of Novela without noting: "Arrangements by Kris Davis." It's heartening to see that the art of arranging is still going strong in the jazz tradition, and Malaby's excellent CD shines a light for others to follow.
Comments and Feedback: