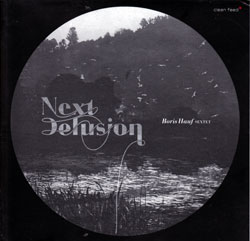 There's been an interesting mini-trend in recent years, not often successful, wherein musicians active in the electro-acoustic improvisation scene seek to come to terms with avant jazz, usually an oil and water proposition. Saxophonist Boris Hauf, who has been active in the eai world for quite a while, has been experimenting in this vein over the past few years and manages, often, to negotiate this territory with an unusual nimbleness, probably derived from a clear great respect for certain rich traditions.
For Next Delusion, he assembles a sextet consisting of three reeds (himself, Keefe Jackson and Jason Stein) and three percussionists (Frank Rosaly, Michael Hartman and Steven Hess, the latter also contributing electronics). Hess, in fact, is also a member of Haptic, another group that, more obliquely, nods in the jazz direction. The massed reeds automatically summon memories of the World Saxophone Quartet and, indeed, one picks up traces of that seminal ensemble but to me, the guiding spirit from the jazz pantheon is Julius Hemphill specifically. Echoes of the sonorities found in Hemphill's magnificent pair of recordings, Dogon A.D. and 'Coon Bid'ness can be gleaned here as well as the overt use of staccato passages for punctuation.
"Gregory Grant Machine" really luxuriates in those rich strains, a dark, moody brew with the creamy reeds atop a broiling roast of percussion. Most of this music really lies more in a jazz milieu than otherwise, but the ambiance is informed by eai so that one pays more attention to the textures, the small sounds, the variations amongst the musicians on like instruments than one would have with Hemphill, where the overall effect and surge was the salient ingredient. Hauf pulls off the imposing trick of imparting something new to a genre long gone stale. He's not always so successful; here and there the music meanders and the saxophonists fall back on busyness and over-saturation rather than restraint, resulting in more clutter than cohesiveness. But even at these points, there's a lot to say for the sheer deliciousness of the reeds/percussion melding — it's never less than sensuous and scrumptious.
Comments and Feedback: