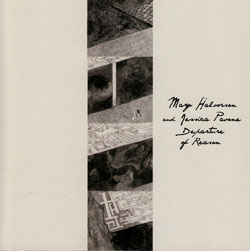 From the initial moments the Halvorson/Pavone duo's fourth outing appears as their finest, with touches of distinction identifying tunes born from rational wisdom and nourished by vivacious souls. The arrangements are accurately outlined; the compositional strategy discloses uncharacteristic solutions. There's nary a moment in which these features result in unfriendly aloofness: the attentive listener remains engaged and smoothly flabbergasted during each episode.
Inspirations are shown without timidity. The opening "That Other Thing" reveals an obvious Frith-ian ascendant in its East-European inflection; feels no shame in enjoying progressions that sound softly charming and utterly hospitable. In "Saturn", an example of unusual — and absolutely not simple — vocal counterpoint is met: puzzling lyrics surrounded by Halvorson's straightforward strumming and specific fret board geometries, Pavone's affecting viola adorning the whole with customarily austere grace. Practiced ears are going to detect infinitesimal junctures and slight adjustments in tones that do not require a surplus of equalization to stand out in the mix.
"Ruin" finds the pair in technically advanced form, intertwining figurations that maintain complete intelligibility in the elaborate sections. These women definitely know the value of an unexpected pause in a score: we find ourselves stumbling a bit, all taken by the rush of pulses that are abruptly stopped five seconds later. The inevitably enigmatic closing "Why Should You Surrender?" releases its entire wording at the very end, following another helping of gossamer textural interaction imbued with lucid resolution. There are lots of comparable moments in Departure Of Reason, a record that is destined to carve a permanent niche in the heart of many.
Comments and Feedback: