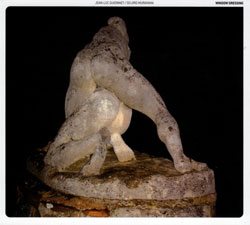 Place this music somewhere on the sliding scale between older school improvisation and electroacoustic improvisation. Four tracks of about an hour's worth of minimal sound exploration from Guionnet on alto sax and Murayama on percussion, with lots of metallic popping from the horn while all manner of rubbing and scratching sounds issue from the drums, with occasional punctuation from struck membranes. On a previous recording with another saxophonist, Axiom For The Duration with Stephane Rives, the modus was high frequency/long duration. Here it is most decidedly other, with longish periods of near-silence poked through with splintered rhythms and small notes or short phrases from the sax.
At about the 8-minute mark during the opening track, "Procede", Guionnet lets loose with a long LOUD held note while Muraryama burbles and pangs underneath. After that, things quiet back down for the most part. Murayama is prone to circular rubbings occasionally shot with drum-head snaps, gradually changing the texture from papery to grainy. His sounds are intriguing and well placed, often conjuring up insectile memories, while Guionnet worries a trill or shortens, then lengthens a repeated phrase. Later on in the long first track there is a bit of quick interaction, which gives way to a return to small sounds punctuating silence. When he lets loose with the quick-quick, Guionnet's tone is sharp, a blade chopping notes. His held tones sound almost electronic at times. On "Processus" Murayama offers wind, fire and water sounds, which move around inside the stereo spectrum.
On headphones or at higher volumes there are some quiet details that may otherwise escape notice: soft movements that may or may not have been deliberate. It makes one wonder whether the title refers to physical objects, or the act of decorating a store window. Or a window itself.
Comments and Feedback: