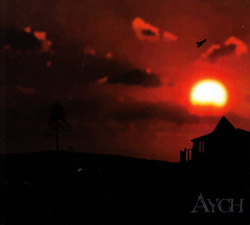 The trio of improvisers gathered here under saxophonist Jim Hobbs' bidding to play five of his compositions and seven creations by the trio has something for everyone interested in chamber jazz of the new millennium. It's got imaginative and thoughtful pre-composed material, inspired improvisation, instrumental virtuosity, and sensitive interactions from players with personality and pedigrees.
As the driving force behind this particular session, the alto saxophonist-composer has provided nearly half of the pieces, the rest being the product of the meeting of these three minds. Innovative guitarist Mary Halvorson and the impish cornetist Taylor Ho Bynum have both spend time with Anthony Braxton and have, like Hobbs, lots of irons in the fire, lots of experience to draw on in concocting As the Crow Flies that is a meeting ground of musique actuelle and free improvisation in the American tradition, and some indefinable qualities that make this a stirring listen.
The trio's shared roots and the fact that they play together in other contexts make for a beautiful blend of instrumental voices. For example, listen to the concise "High Noon," where the three musicians articulate in blissful union, or the funky group theme of "Kekionga," or the cohesive pastoral spaciness of "As the Crow Flies." These consummate technicians and impeccably expressive musicians can convincingly lay down some sinewy ensemble lines with aplomb, and yet rock out some heated solo wanderings or group improv that sounds consistent and focused.
Tone-wise, this is a feast, as the sax and cornet seek out fresh textures and sonorities, all without the aid of electronics. Hobbs' alto tone can be keening and bluesy, dry symphonic purity, transcendental flute-like clarity, yet can push the envelop with squeals and blustery attacks (as in "the North Wind"). Bynum's cornet playing is also full of extremes, including the precise pointillism in "The First Time," the soulful simplicity of "Over Yonder," the softness of "As The Crow Flies," the pedal playing of "Forest of the dead King," or the gritty growlings of "The Salamander and the Ramora." Halvorson, for her part, makes her guitar sing in poignant ways, with a minimal reliance on gadgets, preferring the artistry of plectrum and strings via fairly clean amplification, with just the right touch of reverb, distortion and delay, and just the occasional pedal rack magic. An unforgettable set of creative chamber jazz.
Comments and Feedback: