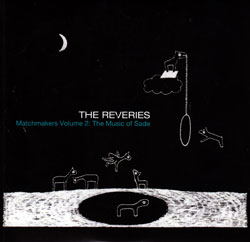 Smooth jazz was never an easy proposition, and the pop wing of it even less so. It was — it seemed, at least — the grown-up pap of the era of Reagan and Thatcher (and Brian Mulroney, for that matter). In the wake of torn clothes as high fashion and TV sitcoms set in the ghetto, it (apparently) was time we all lived a luxurious and stylized life. Fred Sanford the junk man gave way to Cliff Huxtable the obstetrician. Paul Weller disbanded his punk mod group the Jam for the round-edged soul of the Style Council. And then there was Sade.
The Nigerian born singer seemed the epitome of all that popular music had lost. She was suave, demurely beautiful. She sang in an appealingly smooth unfettered by vibrato or melisma. She was what George Michael had started pretending to be. Her ambiguously jazzy pop music may have been the frosting on the end of class warfare, but she nevertheless was undeniably good at it.
It's hard to say to whom Ontario's Reveries hope to appeal with their tribute to Sade, but that doesn't mean it's not an appealing record. Indeed it's one of that rare breed that wears its heart on its sleeve and its tongue in its cheek. Matchmakers Volume 2: The Music of Sade (following a disc of Willie Nelson songs) is not a parody. It's a ludicrously loving tribute.
The band's sound is, well, full of sounds. The instrumental credits include mouth-speaker, street-sweeper bass, thumb-reeds and nose flute, the combination of which results in an incredulously persistent buzzing, thumping and vibrating throughout the nine-song set. Underneath that quiet cacophony, the band plays the songs quite faithfully, even without the signature saxophones of Sade's band.
The vocals are no less mysteriously impassioned. Sung in a throaty falsetto primarily by one or another of the three players credited with "mouth-microphone," the soft warbling evokes its patron fantastically well. There's a bit of a goof being had in a drag-show way, but still it's not played for laughs. (In that respect it's perhaps a bit like John Kelly's remarkable Joni Mitchell stageshow, but just barely.)
The album opens with Sade's biggest hit, "No Ordinary Love," closes with the 1992 single "Kiss of Life" and includes the reggae-leaning title track off her 2000 album Lover's Rock. But it ignores Soldier of Love, released a full decade later after Lover's Rock and still her most recent release. Their dedication to their subject shines through nevertheless. It's probably too offbeat to appeal to many of Sade's fans, but it's too good in its own regard to be overlooked simply for its subject.
Comments and Feedback: