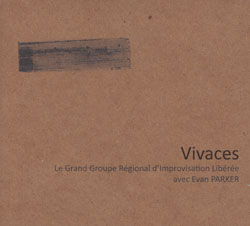 Those who get thrilled in recalling orchestral masterpieces such as Strings With Evan Parker (Emanem) will find something quite flavorsome to chew here, though not on an identical level of artistic strength. GGRIL is a collective from Rimouski, Québec, described as the "home big band" of the Tour De Bras label. Exclusively composed of musicians of different ages and experience based in the Lower St. Lawrence region, over the years the ensemble has played with several leading lights of the improv landscape. This particular set was taped in April 2011 after a brief clinic led by the English master of swirling reeds.
Whereas the concert starts with a completely free piece — "Semis" — in which the players waste no time in finding contrapuntal stratagems by reducing the toe-dipping procedures to the required minimum, the subsequent tracks "Bouturage" and "Marcottage" are directed, respectively, by Parker and violinist Raphaël Arsenault. Still, the music remains entirely conceived on the spot, showing a wealth of veins and colors and an idiosyncratic sense of humor (a gorgeously wacky tuba solo — courtesy of Gabriel Rivest — at the beginning of "Bouturage" is my overall favorite snippet of the entire disc). Electric guitars and bass furnish the action with the right quantities of charged rush when needed; a couple of accordions warrant substrata of folk echoes that sound preposterous and suggestive at once.
The attendance of guest trombonist Scott Thomson adds fuel to the fire in the "melodically bizarre" department, thus balancing the more overt tendency to seriousness dictated by two violins, a clarinet and an acoustic bass. A propulsive consistency is not missing, and — judging by the bursts of audience laughs sporadically heard — a theatrical component must have been applied during the exhibition. Parker's soprano and tenor work just fine without exceeding any limit as he immerses himself in the improvisational ebb and flow with flexible modesty. A few attentive spins and you'll see that there are some values to remember in this totally respectable release.
Comments and Feedback: