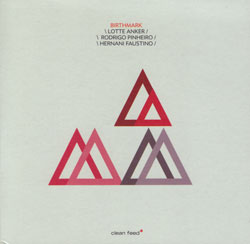 The trio of Anker, Pienheiro and Faustino is a reunion of sorts, as all three are part of the Variable Geometry Orchestra, as heard in the 2007 Creative Sources release Still. As a smaller working group the three find common ground in abstract free improvisation, recording this exemplary album of distinctive playing. The Copenhagen-born, New York-based saxophonist Lotte Anker enjoys a diversity of settings, which includes the trio of Anker, Taborn, Cleaver, and the Mokuto Trio with Peter Friis Nielsen and Peter Ole Jorgens. Pianist Rodrigo Pinheiro and bassist Hernani Faustino are both members of Lisbon's Red Trio, who bring a variety of tactics to contemporary improvisation, using abstract density and tangential lines that bring an interesting equilibrium to their work.
Bassist Faustino's roots are as an electric rock bassist; in this trio setting his playing on the double bass, plucked and bowed, keeps a steady yet never frantic pulse while maintaing a healthy distance from obvious choices. Pianist Pinheiro works in clusters and long lines, creating circular structures that lead into interesting and unexpected avenues, often through complex and meticulous runs. Where Red Trio tends to plays quickly and percussively, here Pinheiros and Faustino are more subdued and introspective. The recordings appear on the surface to present more melodic interplay than is typically associated with these players, probably attributable to the influence of Lotte Anker's playing. Anker is an expressive player, with a relaxed tone that reminds of Lee Konitz or Paul Desmond, though her strategies are much different. Her effortless playing belies the fierce technique and creative strength of her mind, heard in both short figures and extended runs, with beautiful melodic glimpses that resolve in elegant ways. Her playing takes this trio into territory that sounds restrained, yet on inspection is filled with intricate and expansive approaches to improvisation.
On the seven tracks of Birthmark all three players are intently listening, constraining wilder flights in favor of educated and confident discourse. "Golden Spiral" is the perfect example of this trio's dialog, an extended work that gives ample time to each player. The work unfolds slowly, led by Faustino's bowing work, while Anker slowly adds harmonic utterances and short crying tones that extend as Pinheiro introduces single tones, short rhythmic steps that push Anker forward; Pinheiro's lower register playing is offset by Anker's high tones, while Faustino maintains a low circular foundation, all three building tension. The playing increases in intensity without gaining speed, an interesting illusion that gains momentum with increased activity: Anker extending her lines, Faustino's bowing becoming more forceful, and Pinheiro's playing adding more complexity and range. The music becomes a subtle whirlpool, adding harmonic strength, and then unexpectedly dropping out for a solo section from Pinheiros, from which the piece builds again. This kind of exchange characterizes the trio, who provide space and support for each other without allowing the improvisations to become excessive or agitated. The music has a sort of delicacy, keen and astute, but never overbearing; it is a model of control and discipline while fascinating the listener with each player's voice, and with their compelling conversation.
Comments and Feedback: