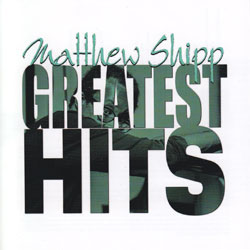 Whether intentionally or not, this album's title has been the source of considerable mirth. Greatest Hits? Where and when did Matthew Shipp have any kind of a "hit", never mind enough of them to fill a twelve-track album? Come to that, when was the last time a jazz musician had a hit? The title is a joke but that doesn't mean that the album itself should be treated as one. Selected by Shipp from his recordings for Thirsty Ear since the millennium, the album is a sampler of his own recordings for the label (so includes no examples of his fine work with Spring Heel Jack or the David S. Ware Quartet.) Tracks were chosen on the basis of airplay and feedback from reviewers, friends and fans. The album's cover art repeatedly name checks Shipp's Thirsty Ear releases, as well as featuring their cover art, emphasising that its intended purpose is to publicise them.
Turning to the music, we find a dazzlingly eclectic showcase of Shipp's recent work — a good way to sample it before plumping for one or more of its eleven source albums. The tracks illustrate the variety of Shipp's work and the distance he travelled between 2000 and 2012. Although tracks are not programmed chronologically, the opener is the earliest, "Gesture" (from 2000's Pastoral Composure), recorded with Shipp's great quartet including Roy Campbell on trumpet, William Parker on bass and Gerald Cleaver on drums. It begins with a marching rhythm from Cleaver, soon joined by power chords from Shipp and Parker's pit-of-the-stomach bass, before Campbell takes over, firing off a bravura track-stealing solo. Stunning. Next up, the title track of New Orbit, from 2001, packs a similar punch, with Wadada Leo Smith on trumpet instead of Campbell. On 2003's "Cohesion", regular Shipp collaborator Flam makes his first appearance on synths and programming; he interjects electronic sounds into an already dense soundscape of piano, bass and drums plus Khan Jamal's vibes, thus making it denser but not overbearing. Flam contributes electronic beats on "New ID" and "Nu-Bop" (yes, Shipp's titles do tend to focus on the new...) which rather crowd out the other players, reducing their contributions to short episodes. Both tracks are innovative and push at the boundaries, but neither shows off Shipp's own playing to best advantage.
While the album's other tracks focus more on Shipp's strengths as a leader, writer and innovator, his own piano playing is showcased best on the two tracks where he is solo, 2005's "Module" and "4D" from five years later. Both are relatively short, at just over the four-minute mark, but Shipp's playing is so fresh, inventive and concentrated that they seem far longer. The album concludes with the sixteen-minute trio piece "Circular Temple #1", from 2010's live double album Art of the Improviser, on which Shipp is joined by Michael Bisio on bass and Walt Dickey on drums. It is a tour-de-force improvisation with all three contributing equally and interweaving into a satisfyingly complex and wide-ranging whole. On an album without one weak track, it just gets the nod as the highlight. Or, as your friendly local DJ might say, the hits just keep on coming...
Comments and Feedback: