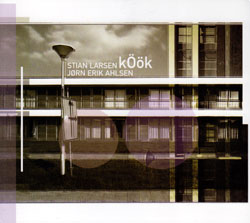 kÖök is a duo composed of Norwegians Stian Larsen and Jørn Erik Ahlsen, guitarists who studied at top-notch music schools in Norway and who have since dived headfirst into improvised electronics. The CD kÖök is their first release, recently followed up by the highly praised Live in Leipzig (Kjøkkenmusikk, 2013).
The seven songs on kÖök are consistently intriguing, with even more nuances apparent on subsequent listens. Standouts include "There Was No Soup," which features floating guitars over an unrelenting drone. The contemplative guitars combined with the insistent, sometimes crackling pitch creates a powerful contrast; it's a pleasurably understated piece, with many subtle electric doings. "Do I Know Sarah Kane?" is a short tune that's wonderfully wavy. Vivid sounds burst atop an undulating electronic motion, filling the space with clings and klacks and all manner of sonic contours. "So It Goes" is a mysterious, majestic song, with wistful guitars and melodic interludes on top of the interweaving and sometimes clashing pitches. It's dreamy and grinding at the same time, creating a fabulous ambience that's downright meditative.
"Unit/Fitted" is the longest piece on the CD, almost twelve minutes full of space and surprise. The duo generates fragments of noise throughout, a full range of splinters and particles and flakes and dabs. Meanwhile, drones assert themselves and then fade away, offering an ongoing dance of creation and disintegration. Some of the noises are reminiscent of cartoons and video games, which give the tune a joyful energy, but something a bit menacing is happening as well. The sound-sculpture unfolds in an ever-building momentum, with myriad layers and subtleties to enjoy as the journey progresses.
What makes kÖök special is its seamless blending of lyricism and electronic textures, topped off by a healthy dollop of mischief. This combination of intelligence and playfulness is immensely pleasing, and the group's inaugural release offers an altogether fresh addition to the world of electronic ambient music.
Comments and Feedback: