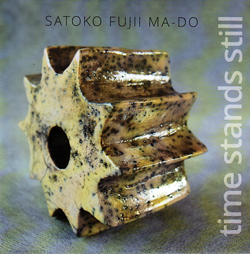 In the Bauhaus tradition of art, students attended classes and workshops taught by a tandem duo of "technical / crafts masters" and "form masters" — the pedagogy and "art", respectively. One of the former, Joseph Albers (later an instructor at Black Mountain College whose students included Eva Hess, Ray Johnson and Robert Rauschenberg), the counterpart of Paul Klee, praised the need for an understanding of the basics of form; having this structure is where students "develop critical skills". He also believed that, with a big picture knowledge in place, abstraction will follow as it "is the foundation of the human spirit".
Clinging to actual notes on paper, there is almost a Standards-like approach to Natsuki Tamura (trumpet), Satoko Fujii (piano, band leader), Norikatsu Koreyasu (bass) and Akira Horikoshi's (drums) Time Stands Still, but the micro-fusion, skewed layout, length of range and frayed harmonic content pushes the works much closer to In a Silent Way than Duke Ellington. To take a step back, the first work, "Fortitude", begins in the moment when jazz soloists deviate from the chords and scales and lash out against tonality in favor of texture, Koreyasu starting with raspy harmonics, grating pulls and winding bends via bow. Fujii and Horikoshi join to ground the bassist with a steady pulse (one you have to count to figure out the meter); soon everyone comes together with the first verse, set to explode, and everyone but Tamura falls away, the trumpeter furiously blaring the head against an empty backdrop. The group rejoins and blazes for another four minutes until the return of the A section and close. And that's how you reverse a jazz arrangement.
"North Wind and the Sun" launches with a repeated six-note motif whose cadences the group punctuates with a washing gesture (notes played together so quickly they ring like a gong). Just as they're about to take off, the band stops to a halt to revel for a few moments in primordial scribbles (experimentalism where players squirm around to discover non-idiosyncratic potential i.e. soft mouthpiece squeaks, non-directional tinkering on snare heads). They momentarily come back to the refrain and carry on with a sort-of Latin bounce; the moment you think you've heard this kind of shuffling, tempo-bouncing, neo-hard-bop (i.e. Chick Corea's Inner Space), the group tosses in clever interruptions that aren't so much variations but stylistic anomalies (more scribbles). "Rolling Around" realizes as a tender ballad riddled with silence (the pauses and pitch choices almost recall Morton Feldman piano works), sporadic thunderous undertones and violent outbursts. After the tension bubbling throughout the album finally pops, "Broken Time" plods like a funeral dirge leading toward the Wailing Wall before Horikoshi pushes his crew with a nimble groove; this inspires Fujii into a full exploration of her keyboard and genre knowledge until the drummer takes the piece out with a well-deserved solo spotlight.
Listening to Satoko Fujii ma-do, one is reminded that blocked chunks of themes written on charts can still yield exciting, unexpected results when mixed up just enough and tweaked from within.
Comments and Feedback: