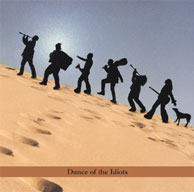 It appears that this side of the Atlantic is not the only place where Jewish music is influencing young experimental artists. Myriad musical maestro Koby Israelite has released Dance of the Idiots, a whiplash inducing CD that can catch the listener unaware as it quickly changes gears and genres. In addition to programming, Israelite plays at least four instruments on most tracks including drums, electric guitar, pocket clarinet, flute, piano, accordion, keyboard, melodica and percussion. While clearly displaying cantorial, Chasidic, and klezmer foundations, Idiots is foremost a stylized self-portrait that draws on metal, rock, psychedalia and synth pop, resulting in an unmistakably kosher ragout.
Israeli born, Koby Israelite has resided in England for over a decade and performed with many distinguished jazz musicians, several of whom he has wisely recruited for this session. Most notable is reedman and fellow Israeli ex-pat Gilad Atzmon, whose band The Orient House Ensemble and their cd Exile (Enja Justin Time, JENJ 3305) have both been nominated for 2003 BBC best band and best album Jazz Awards. Also here from the Exile session are the deliciously talented violinist Marcel Mamaliga and bassist Yaron Stavi. A first rate brass section in the persons of cross-genre session trumpeter Sid Gauld (Burt Bachrach, Blur, James Galway, The Stranglers, Ray Charles and dozens of others) and trombonist Reut Regev (seen in NYC with Assif Tsahar and Ras Moshe, among others) helps produce some of the cd's stronger cuts. With decidedly funky bassist Stefan Redtenbacher, Ofir Gal's rock guitar, virtuoso Romanian born jazz/classical accordionist, Marin Nasturcia and Howard Davies' didgeridoo occasionally added to this heady mix, Israelite has conjured up a suitable quorum to present his sweeping musical concept
Although Dance of the Idiots can veer dangerously close to cheesy Chasidic Casio Karaoke ("Saints and Dates") or resonate an inbred gondola music groove (parts of "I Used to be Cool"), these moments are saved by expert musicianship and the best cuts are close to flawless. "Battersea Blues" evinces a sensibility that flies in the face of commercialization in its simplistic but beautiful melody and raw but not happenstance folk instrumentation. "I Used to be Cool" and "Wanna Dance" take the listener on breakneck genre tours that can begin with a Gregorian chant, grind to a surprising non-cadencial ending or have a laughing klezmer clarinet eructate into a final belch. "In the Meantime" enables Sid Gauld to stand out on trumpet and is a Balkan funky concoction, as is "Truah," where brass again shines against a funky rhythm with Regev's trombone leading the way through some MidEastern synth noodling. The title piece explodes into an animated ska beat that boasts everything from crisp accordion runs to the theme from the Simpsons. "Toledo Five Four" features Israelite on 5 instruments that with Savi's bass set up a rhythm upon which Atzmon, Mamaliga and Regev provide hot solos. "Diego (Hora Miresei)" is an all-too-short traditional Romanian wedding tune that Nasturcia plays in classic fashion while Israelite free-form drums an accompaniment.
Israelite shows himself to be a seamless mixologist as "HappyLouge" and "2nd of Tamuz" are delightful melanges of various genres interspersed amongst each other until heavy metal and Chasidic nign eventually align as kindred spirits. While the individual musicians on Dance of the Idiots are standouts, the album ultimately glows as a panoramic statement of Israelite's vision.
Comments and Feedback: