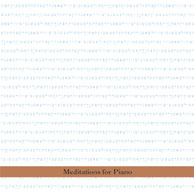 Pianist Borah Bergman does nor record much, his work as criminally underdocumented as Myra Melford's (with whom he recorded a disc of John Cage music in the '80s). He has recorded mainly for the Italian label Soul Note, who put out A New Frontier, one of a handful of solo releases prior to this most welcome disc, Meditations for Piano.
Meditations is released on Tzadik's Radical Jewish Culture series and the seven "meditations," all composed by Bergman, are based on the cantorial traditions. Bergman has mentioned in the past that "cantorial themes." He also dedicates this disc to his grandfather, cantor Meir Pergamenick. But leaving Judaism (and the fact that Bergman was raised in a secular, left-wing home) this is a beautiful album. The "meditations" themselves can be part of any liturgical service, past, present and future, of any religion.
Unlike previous releases by Bergman, his playing here is more spare, gentle, slow and really 'meditative', exploring the themes more and more deeply. Bergman's phenomenal playing with both his left and right hands is present here, but you will not find the kind of confrontational dialogue between his hands that you can find in his past releases. Meditations for Piano is a peaceful, obviously very personal, statement from one of the most enigmatic musicians of our time.
Comments and Feedback: