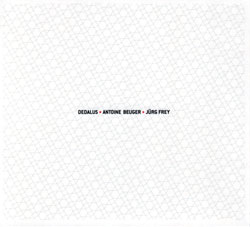 Dedalus is fast becoming a trans-Atlantic ensemble to watch out for. The ensemble has most recently been playing a program in Europe and the States of composers from New York and Europe. Their repertoire comprises a who's who of contemporary chamber music, from John Cage, Cornelius Cardew, James Tenney and Christian Wolff to Luc Ferrari, Tom Johnson, Michael Pisaro and Frederic Rzewski, A new CD release features two lesser known composers (Antoine Beuger and Jürg Frey, both members of the Wandelweiser collective and both joining the ensemble here) makes for a program of sustained tones and sustained patience.
Two of the three pieces on the disc are by the Dutch flautist Beuger. His Méditations poétiques sur quelque chose d'autre opens the disc with prolonged tones and spoken lines — sometimes stated up front, sometimes mumbled in the back. It moves slowly but does build from a melodic progression, giving the opening a sense of momentum, albeit at about 6 bpm. Jürg Frey's Canones incerti comes second and carries on the prominent downstrokes while upping the tempo slightly. He also builds richer (or at least more overlaid) harmonic structures, while building on the inadvertent theme of outside traffic noise that was introduced during the first track. (The disc includes the occasional cough and audience rustle as well; funny how external sounds can more easily carry charm on record than in the room.) Beuger's Lieux de passage closes the set, retaining the stacked harmonic clusters but slowing the procedure down again with Frey's clarinet seeming to mimic the traffic sounds. Even at the fuller moments, the music never sounds like a sextet (with guitar, viola, trombone and percussion joining the composers) not just because the playing is spaced out so broadly but also because they pick up on each other's tonal iterations with such precision.
Dedalus seems to have an unusual habit of curating their presentations so closely they nearly become suites. Their "Made in USA" program puts the focus so tightly on composers working in discrete gestures and who's-got-the-button arrangements that they nearly blur together. Likewise here, the three pieces (totaling 78 minutes) can be heard as a single swoop despite being by two different composers. It calls into question the very notion of composition, much like the story of a concert of string quartet premieres where the order of the program was changed and two composers stood up after a piece, one not recognizing that the composition wasn't his. The pieces here are in remarkably close proximity but nevertheless make for a pleasing listen.
Comments and Feedback: