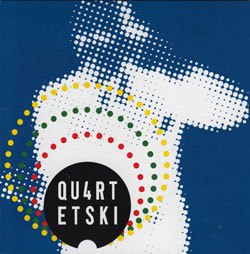 With 101 years of concerts, riots, discussions, thesis, influence, acceptance, canonization, you would think there isn't much more that can be said about Stravinsky's immaculate, ground-breaking Rite of Spring. However, this quintet's interpretation is forcing us to reopen the tomes. Isaiah Ceccarelli on drums, electric guitarist Bernard Falaise, Phillipe Lauzier on bass clarinet and soprano saxophone, violinist Joshua Zubot and ringleader Pierre-Yves Martel also on viole de gamba and "diverse objects" here deliver a candid version of the work that's based in straightforward score adherence and detours that range from slight to wild, but always back to the map — and always interesting.
Apart from a deep muffled drone, the introduction of L'adoration de la terre begins on queue with Lauzier delivering the high C and rhapsodic opening gesture; Falaise gently plucks out pinpoints to cover the brass counterpoint. Just as faint, Zubot joins to complete the intimate trio. Things are going exactly as planned, the performance washes over you, you're rising to heaven — bam, one minute and forty-seven seconds marks the first frenzied burst of instrumental twisting, guttural breaths and string disfigurement. As if suddenly unpossessed, the band immediately hops back into character before Ceccarelli and Falaise lurch into a bluesy stomp. Zubot goes it alone with a stark, pan-tonal rogueness as prelude to Les Augures printaniers (the staccato 8th note part with lots of accents that you can almost shake Devil horn hands to — the portion John Williams ripped off for Jaws). For this movement, the crew restrains the otherwise tension with Ceccarelli opting for jazz brushes and all working muted and mezzo forte. However, it isn't long before the members burst into a brash groove, complete with Gene Krupa drum bashing. The group moves forward with the lugubrious, snake-charmer Rondes printanières, laying into the swaggering pulse of Stravinski's vision while adding Lauzier's steamy Coltrane-esque exploration on top. Rocking out, guitar string and amp mangling, barely audible drones and a raging barn-stomping frenzy follow to close out the first half.
Le sacrifice tracks the same model of faithfulness and interjection, the latter delivered with woo to convince that the deviations should be there. The act flows from dinner theatre to corner slinking lounge with a great deal of space near the beginning. As the group approaches Glorificaion de l'élue (the percussion-heavy bombast), the air is frantic with Martel taking a nimble extended solo. The players launch back in and cadence just as Falaise takes flight with something not quite metal, but certainly heavy: dense, warbling, detuned chords that slightly shift pitch, hang, and dissolve like clouds on the verge of thunder. Ceccarelli steps in and the two put a dirge-like punctuation on the Golden Mean of the piece. The ostinato of Action rituelle des ancêstres (again, being a Star Wars child, I associate this with the Jawa sand crawler) starts like a lamb, works into a two-headed lion and burns out. The finale is a curious medley of mechanized grinding and rumbles from what seems to be a turntable also playing a short hazy loop of Stravinski's original in reverse. Soon everyone wails, the beat grows three heads due to Falaise's distortion and Ceccarelli's assault, and cut.
It is a daunting task filled with ghosts throughout history to tackle Le Sacre as a small chamber ensemble and make it your own, but there is nothing bare-bones about this version. The approach could have gone Three Bears: one is too rigid, the other too wild, free and disrespectful. Quartetski's augmentation of this landmark work is just right.
Comments and Feedback: