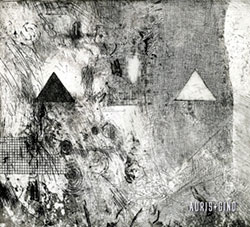 Quite often, experimental musicians fall into one of two camps: those who are patient and good at creating foreign soundscapes with "what is that?" creativity, or those technically voracious and bombastic (generally working in a post-jazz tradition, using their years of scales work for something other than hard bop solos). Nothing is flawed with either tactic, but it's interesting when a group has mastery over both methods, as is the circumstance with trio Auris and percussionist / noisemaker Gino Robair.
For each of these six works, members Eric Leonardson (springboard, electronics), Julia Miller (guitar, electronics) and Christopher Preissing (flute, electronics) offer variations of players and instruments, all anchored to Robair's amazing performances. To call the music "nimble" would be an understatement: the crew can launch, pause, regroup and rush without hesitation across myriad disparate gestures. On "A+G.1" the quartet jumps out of the gate with a snappy percussion groove under flute chirps, sporadic guitar roars, electrical stabs and manipulated vocal whimpers — the latter à la Phil Milton's possessed aesthetic; metallic objects ping and clang, guttural pops and snarls project, and a bag of kitchen sink objects is poured out to fizz, thunk, lurch and collapse. That's just the first three minutes.
There is so much activity going on here (and on "A+G.2" and the closer, "A+G.3") that it's hard to keep up with the sonic sprint; you'll find yourself with eyes closed, head down because there is no way to experience Rub with any distractions. But it's a lovely wall of sound: it's all hand-made, human interaction with machines and instruments to coax out 10,000 bits and approaches (read: it's not just flicking the "on" button and letting the inanimate animate). Further, the chemistry of the group is the flawless cooperation of an eight-handed beast, one that acknowledges a macro picture while building and tearing down waves of deft orchestration — often sounding as a gremlin big-band. There are scarce solos moments, and they make for a powerful contrast (i.e. a pause near nine minutes to highlight Miller's roaring, pitch-bending power chords).
Equally (if not more) enjoyable are the pairings of each member of Auris with their featured guest. Here, you have a chance to pick apart and relish a slightly more minimal, intimate situation. After a soaring synth siren, "E+G" is Leonardson and Robair embracing rhythmic beds of rolling toms, nervous percolating flicks and cavernous sub-frequencies. By contrast, Miller and Robair fill "J+G" with micro-bursts and rapid-fire muted shrugs, the drummer ripping tape off drum heads and working across his entire kit while Miller hammers on and off, wrings her (guitar)neck and gives a wah-wah pedal a workout. Preissing's overblown gagaku moments, non-melodic rasps and speak-flute blend seamlessly with Robair's stick+membrane scuffs and trombone-like pitched moans on "C+G".
In case this review hasn't already rammed the idea down your throat, Rub is a dazzling display of virtuosity. So much talent across musical chops and knowing how to use that Ivory Tower perfection to offer new music is almost criminal.
Comments and Feedback: