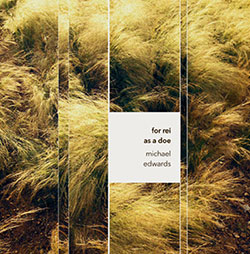 Michael Edwards is a British composer who one might suspect, given the punning nature of this piece's title, to have a wry approach to his music but, judging from the release at hand, he seems quite serious — and interesting.
The late work of Morton Feldman is an apparent reference point, with notable differences. A solo piano composition, (played here winningly by Karin Schistek) the music is subtly augmented by a computer program of Edwards' design called, ahem, Slippery Chicken. The music is spare and tonal, meandering (not in a bad way) from point to point, abetted by small urgings from the program. The key here is that those sounds are discreet, choosing to tickle and prod instead of equally accompany, much less overwhelm. They tend to be of a percussive nature, though tinkling like ceramic or bone, never pounding, only occasionally cresting to a mini-climax. They'll also supply background hums and breaths, as from turbines operating behind walls or in the distance. The piano writing may lack the incredible shadings of note placement and pitch choice in late Feldman, but it's perfectly enjoyable — serene and thoughtful, sometimes wending its way into unexpected corners.
for rei as a doe is a fascinating work, presenting a new take on the interaction between acoustic and electronic instruments.
Comments and Feedback: