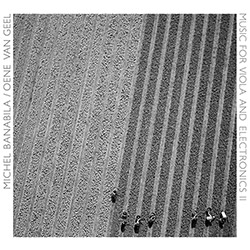 Diverse. This is the first word that must be used in describing Music For Viola And Electronics 2. Electronic musician Michel Banabila and Violist Oene van Geel explore more territory on one album than seems possible. They touch on free jazz, industrial beats, drones, noise, groove jamming, and compositional elements reminiscent of Steve Reich and even Andrew Loyd Webber. Yet, the album flows nicely and is amazingly coherent despite the wide variation.
Another word one might use is "cinematic." The album feels at times like a soundtrack. That's not to say that it is destined to be used as background music, but that the music has a narrative. It is a dramatic, emotional journey, similar to cinematic music. This quality is most pronounced on the third track, "Vleugels". This piece begins with looped melodic viola, reminding the listener of the classical minimalism of the 1960s. It then weaves its way into a rich emotional composition with thick tonal harmonies. When electronic drum beats ramp up to a rock feel, the music begins to sound like a modern Broadway musical. On the other end of the spectrum is the final piece on the album, which features chaotic string punches and layered synth tones, which sound like insects buzzing.
Somehow it all falls together into a coherent musical statement. Every musical destination flows seamlessly into the next in a natural and logical manner. The end result is a beautifully pleasant album. Rarely are experimental albums this accessible; Banabila and van Geel have put together an album that can be fully appreciated by any avant-garde fan, without enraging their neighbors.
Comments and Feedback: