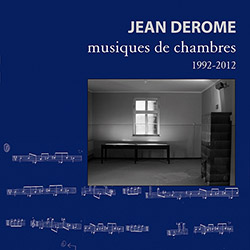 Jean Derome — a veritable stalwart from the Quebecois scene since the early 70s — does not seem particularly interested in being hailed as the designer of epochal masterpieces, at least judging by the mathematical spirit-cum-playful twists conveyed by large chunks of Musiques De Chambres 1992-2012. We often perceive the hand of a composer intent in establishing a somewhat stretchable relationship between instructions/scores and performers willing to extract essential juices from substances that do not appear exactly "juicy". Indeed, most of this stuff exploits graspable rhythmical cells and superimposition of rather restricted melodic materials, the whole not infrequently comparable to out-and-out exercises with a few intriguing traps and unforeseen spurts. The latter characteristics differentiate it from the kind of poor man's minimalism peddled by those who want to sanctify the name of lowercase at all costs.
Derome plays in just two of the six cycles. Apart from "Les Jumeaux" — a duo with clarinetist Lori Freedman — the record comprises series of mainly short-ish pieces, in any case lasting less than five minutes. All things considered, this fragmentariness is a plus. Ideas are expressed with conciseness and, in a way, detachment; the heart may not skip beats because of emotional turmoil, however the instruments resonate beautifully in (mostly) ample spaces. Never for a moment does inertia or boredom set in; as simple as a compositional choice might look, one follows plots and patterns with a degree of interest to see what the deal is. In general, nothing truly extraordinary happens; but we do get caught. Selected sketches possess a generous drive that lets forget about the lack of genuine harmonic complexity ("Cinq Études Pour Figures"). Some of them show a propensity to contrapuntal spiciness (read: challenging use of close voicing inside discordant constitutions), the flute octet "Les Cheminées" — featuring the Alizé Ensemble — representing perhaps the best example. A couple of snippets from the saxophone quartet "Rouge" — executed by Quasar — could hypothetically suggest an association with Gilbert Artman's Quad Sax (the "distilled" version of Urban Sax: go get their lone release now if you missed it).
Though my favorite Derome is still the fabulous reedist who swaps blows with René Lussier in Les Granules, or enriches Lars Hollmer's Looping Home Orchestra in Door, Floor, Something, Window, I am always glad to know what he is doing. You should be equally curious; intelligence is a rare thing in today's music: either you like the results or not.
Comments and Feedback: