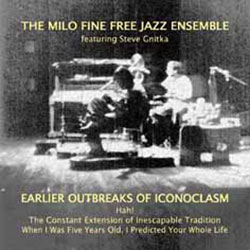 Milo Fine has been kicking around the upper mid west of the US for over 4 decades now, writing about avant garde music as well as creating it on drums, piano, marimba, clarinet, and goodness knows what else. This set of recordings date back to the mid-late 70's and find him mostly in duo with guitarist Steve Gnitka.
Each of these improvisations, most on the short side, are lessons in spring coiled synergy. Either in duo or solo, these men seem to feel the constraints of their geography and are bursting at the seams in an outpouring of expression, intent to break out of their land locked existence. (They inevitably did, having recorded for Swiss label hat Hut where some of these selections first appeared). The guitars are jittery, with notes desperately pushing past each other like a colony of ants racing to a discarded piece of fruit.
A good example would be, well, "Penis Ants". Fine's crazed clarinet blowing somehow manages to out spaz Gnitka's frantic picking. The title, although juvenile, is apt. Fine's clarinet solos are some of the more serene moments heard here, although they still sound agitated in their employment of large intervallic leaps and bent/overblown notes mixed with occasional vocalizations. Not far from Dolphy territory, which is a high compliment of course.
Fine's piano work runs the gamut, shifting between short staccato runs, hanging chord clusters, and melodic whimsy. There are even moments of thoughtful reflection, although they are usually interrupted by chaotic key slashing. The drumming is superb throughout. His traps have a muted sound, pre-dating Jim Black's stifled sonorities, giving each stroke clarity and purpose. This is a Fine example (pardon the pun) of where American Free Improv was in the 70's, shot through with ample doses of joy and creative motion, and at two discs in length, a wealth of stunning musical information. A+
Comments and Feedback: