On a rainy night in May in the Lower East Side, about 100 people stopped or slowed down traffic, and nobody got mad. Motorists actually smiled as the motley crew of costumed revelers, wearing skirts made from recycled magazines and hats made from household items, banged on cans, bottles, and washboards, anything they could make noise with, as they paraded up Essex Street, onto Houston and headed towards the confines of East River Park.
The event was part of Psy-Geo Conflux, a weekend dedicated to redefining how we experience the city. The parade itself was organized by the Toy Shop Collective, who previously won a competition organized by evolutionre zellen, a Berlin-based group dedicated to finding and funding those who can best answer the question: "How do you design your society?"
As the group traveled along Houston, several police cars trailed them, although they didn't try to stop the march. Many people along the way looked quizzically, as if wondering what was going on. One man stopped a member of the group and asked her why she was banging on an old dirty can. "Thats junk!" he said. The woman looked at her can, then reached inside it and pulled out a whistle and handed it to him. He seemed resistant at first, but the bright smiles and infectious enthusiasm of this group won him over and he jumped in, blowing on his whistle and abandonding self-consciousness, tuning in to the group's collective consciousness, which was best described by a banner some of them held: Is the Fear of Looking Stupid Holding You Back?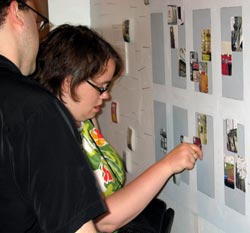 Psychogeographers Locate Street Scenes at ABC No Rio

Psychogeopraphy is a discipline discussed in universities and celebrated among anarchist collectives like the Lower East Side's ABC No Rio, where much of the weekend's festivities were centered. But it's not one that's easily defined. While some organizers and participants attempted long explanations of the small field of thought that concerns itself with how the environment affects an individual's inner state, others offered simpler, more utilitarian explanations. It's an effort to "stop taking for granted the things you take for granted," said Drexel University history professor Scott Knowles, who lives in Queens and took part in several of the events aimed at slowing down the nonstop city.

Knowles is a member of a loosely-knit group calling itself Psychogeography New York. In the last two years, they have undertaken such activities as collecting objects on the street and redistributing them around the city based on the object's aesthetic qualities; riding the length of the A train, starting in upper Manhattan and making the two-hour ride to have a party in Far Rockaway, Queens; and exploring the city using maps of other cities. Such projects, Knowles said, are intended to undermine their own expectations about what goes on in, and below, the streets of New York.

"To me, at the very simplest level, stripped of political meaning, it's making yourself aware that your surroundings not only effect what you think, they are what you think," Knowles said. "At the first level, it's what you are seeing and then what you are not. But there's a deeper level that people discuss where, as capitalism develops, more of the experience of the street is closed off and you are channeled to certain areas in the street.

"It's not a religion," he added. "It's not a life-changing philosophy. It's realizing that what you see on the street is effecting you."

Taking time to appreciate one's surroundings is, of course, hardly a 21st century innovation (although it may well be one that denizens of this century would be wise to recall). Psychogeography as a discipline dates back to Paris in the 1950s, but it has roots that stretch back much further. One could even argue that Socrates, who said "The unexamined life is not worth living," was the first psychogeographer. During a talk at ABC No Rio, photographer Colette Meacher, who has worked as a lecturer in Cultural Studies at the University of the Andes in Bogota, discussed the value of meditative walking through philosopher Immanuel Kant's work.

"Walking has always been a means to thought, not just for writers, artists and poets but for philosophers as well," Meacher said. Kant took the same walk at the same time every day, and used these walks as ways to discover the beautiful and the sublime, not just in his surroundings but in own experiential states, she said.

"The city itself, as landscape, offers moments of wonder by virtue of the wealth of diverse practices which, synchronously, and continuously, manifest therein," she said during the talk. "The sublime views which can be gained neither depend on perspectival privilege nor on a specific positionality within its spaces - a feeling of awe can be achieved irrespective of familiarity with it or whether it is approached wit a 'naive' eye."

Regaining that "naive eye" was the impetus for several self-guided walks during the weekend. People stopping by ABC No Rio could pick up photos taken around the Lower East Side, locate the site pictured, and then return to put them in the appropriate spot on a large map on the wall. A book was handed out that directed the reader around the city, steering participants in different directions based on hearing a car alarm or a cell phone or seeing a bicycle locked to a street sign or a woman wearing a hat. And groups were sent out to photograph and document the service entrances of New York's most prominent buildings.



Bill Brown

If the psychogeographers want to get a fresh look at the city, they're not forgetting that they're being watched at the same time. Bill Brown maps security cameras around the city, and says there are at least 7,500 in Manhattan alone. And with cameras mounted on emergency vehicles, planes and satellites, "we are now visible from the ground all the way to the sky," he said.

The cameras are not a product of terrorism concerns so much as attempts to monitor drug sales, traffic infractions and consumer behavior, he said.

"We are now visible to those cameras," Brown said, pointing to a camera mounted on the side of a building aimed at the dozen people circled around him. "Because we are lingering, we are loitering. It is interesting enough to track us. It used to be in our society we divided people into two groups, the people that might commit crimes and the people that might not commit crimes. If you stand here on the corner of 14th Street and 8th Avenue, you are worth watching."

The sights and sounds of the city have often been the source of artistic expression, of course. The closing party, held at Subtonic, in the basement of the nightclub Tonic a few blocks from ABC No Rio, featured site specific sound work by percussionist Sean Meehan and sound manipulator Geoff Dugan.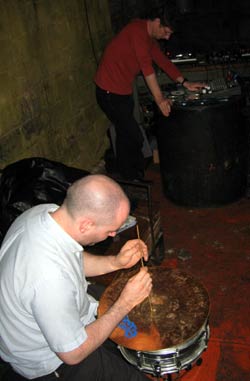 Sean Meehan & Geoff Dugan

Dugan used recordings of Meehan playing on the street as a sound source, layering it and altering it as Meehan sat quietly, as if trying to find away in to the sound, into aduet with himself, despite excessive chatter and onlookers who displayed no sense of the performers' personal space. Or perhaps Meehan was simply absorbing all the noise, the sounds of conversation and cash registers, before beginning. Eventually he entered into the dialogue, rubbing the rim of his snare with a fork, rolling the drum on the floor, pushing thin wooden rods against a cymbal, mixing in with the sound around. Whatever his reaction - annoyed, amused or inspired - it could only have been seen as appropriate by the psychogeographers gathered on a rainy Mother's Day night. Meehan and Meehan, and the sounds of a basement bar. To ignore the noise would, perhaps, have been to miss the point.