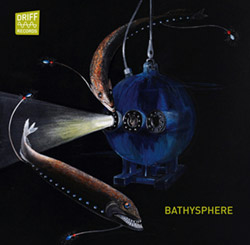 The art of the chart is not dead. It's just moved to another address. Used to be that the arranger was a lynchpin of popular music, hired to score canvases full of nuance and color for name bands or soundtracks. Left somewhat to the wayside with the development of multi-tracking and affordable and easily available software of all sorts that facilitated scoring — that and the rise and triumph of smaller combos — the chart writers faded from prominence. But here the arranger's art is alive and kicking in seven tunes for a 15-piece big band that includes a number of top improvisers. The compositions and arrangements are signed by pianist Pandelis Karayorgis and saxophonist Jorrit Dijkstra.
The tour de force of musicianship heard here is impressive. The writing is sinewy and clever, making use of the wide palette afforded by this band and allowing for lots of improvising, even while the chart moves along in a very calculated manner. The rhythmic writing and playing stays close to traditions of big band writing from the likes of Thad Jones-Mel Lewis and Neil Hefti (two names that come to mind), but the idiom is definitely inflected with contemporary stylistic traits. The success of this revisionism results from these musicians' obvious skill with the traditions of big-band playing, combined with the equally obvious experience of these players in a more avant-garde context.
This recording is not about avant-garde composition, by any means, but it walks with impressive balance along a fine line between experimentation and conservatism, respecting traditions of jazz arranging, while bringing in some new qualities of its own. Examples are found in the oblong melodic lines and post-abstract-expressionism of "Chip Log," the hyper-minimalism of the exposition of "Bathychord" and the Frank Zappa-meets-Cecil Taylor of "Coelacanth." The fact that this big band also includes a quotient of electronics with its traditional roster of brass, reeds and rhythm section, and that it eschews any blatant ironic statement, adds to the post-post-modernist effect.
Comments and Feedback: