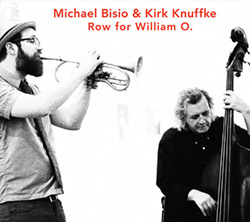 This pairing of musicians really works. The twin lines of cornet and bass, opposite ends of the register spectrum, as conceived by these two expressive players, make for a kind of musical dancing, where the fleet and sinewy cornet lines twirl around and intermesh with and the bass line's unrelentingly flow of ideas.
The tone row concept is presumably at the heart of what these two musicians are working with, as the musical cells expand, contract, evolve and recur, so the forward movement is linear rather than harmonic, all fueled by the sensitive interactivity of the compositional/improvisational thinking.
William O. is Bill (William O.) Smith, a clarinetist-composer and former teacher of bassist Michael Bisio to whom this album is dedicated. According to a review by S. Victor Aaron in Somethingelsereviews.com, Smith "taught [Bisio] about playing note patterns in a row of ascending major thirds as one way to convey substantive beauty in simple ways." Hence the nod of recognition for the master's inspiration.
Notwithstanding the normative conceptual core of the row, the variety in the character of the tunes and their sequencing makes for a pleasantly adventurous listen, starting from the punchy stop-and-start cubistic "Drago," through the more reflective title track , through the elegiac "I want to do to You what Spring Does to Cherry Trees," (a ballad by Bisio that is as lyrical as any of the chestnuts from the great American Songbook). Then there is the Lester Bowie-esque bluesiness of "Oh See O.C." and the propulsive yet elegant and insouciant "To Birds" that closes this lyrical set of duets.
Comments and Feedback: