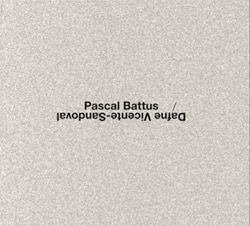 Two discs of beautiful minimal improvisation conjured on rotating surfaces, microphones, polystyrene, paper, plastic (Battus) bassoon, microphones and mixing desk (Vicente-Sandoval). I know a bit of Battus' approach, and find it fascinating to say the least. He activates various and sundry objects using the guts of old tape machines, their rotating spindles agitating whatever is in his hands.
A quick perusal of the web informs that on the first disc, titled "Marne", the instruments were amplified with single close-up microphones. On "Seine" an acoustic approach was taken, offering slightly less detail. The nine tracks on the first disc have an alien "what's that sound?" quality, but the sounds themselves are so rich and the changes in them so interesting that they almost tug at the listener's ear. Bewitching. The soft whirrs, papery whispers and fluctuating drones create a collection of wholly individual sound worlds, each with its own sense of construction and logic.
None of the 15 short pieces stand out for me, they are all richly rewarding of strict attention. They're mostly on the quiet side, though the second disc does occasionally veer into more grating and louder territory, yet maintains the level of detail evinced throughout. Fog horns, electrical humming, low end throb, squealing high end whines and weird harmonic beating all step up and are recognized. Beautifully packaged in a fold out cover that's as minimal as the music.
Comments and Feedback: