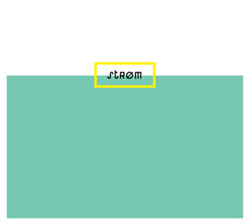 Alvin Lucier's 1969 I Am Sitting in a Room is a display of new sonic material culled from recording a voice and recording that recording, and recording that recording, and recording that recording — and on and on. The final product shows almost nothing of the original, the piece becoming a wash of room resonance and blurry overtones. Gaudenz Badrutt (electronics and analog synthesizer) and Christian Müller (electronics and contrabass clarinet), aka strøm, took a similar approach on X, but what happened was quite the opposite: the music became clearer, larger, focused and incredibly detailed.
Born from a live jam, and then remixed myriad times and ways, X is a hybrid android beast dreamt up in a lab. "Rimese" begins with a placid drone and sci-fi sound design of blips, sputters, power-ons etc. A panning, ticking pulse is introduced before a subway-sized ostinato of various materials takes over. All hell breaks loose in the form of machine "malfunctions" and gravelly distortion; the storm of noise peels back, and we're left with insect scribbles and a pale whir. Layers of stuff start as nothing, and then grow to a point just enough to create a fierce tension as they flit across the stereo field. Switches are thrown, and the piece sputters to a halt. "Erisem" lives in a staccato world of percussive thumps and rapid start / stop ideas that manifest like TV channel changing (well if all the programs featured amplified medical contraptions and pitch-shifted frog ponds). As the work winds on, all sounds begin to disappear into the distance via reverb, and then abruptly lurch back into center for a brief coda. On "Merise" and "Xermi," the duo concentrates on forging an electric river of slow moving, glowing magma that subtly overwhelms and drags everything in the way along for the descent.
The disc follows this aesthetic until the closer, "Semeri," the first remix that the previous six remixes remix (got that?), where the feeling is almost...human. That's kind of hard to qualify, but where the previous tracks were bionic, this one pauses frequently between gestures because copy and paste and days of decision making are not available. It's not sloppy, just semi-nude, raw and fresh with breathy sounds and stunted buzzing and sudden foghorns and twitching bleeps.
In the way that Serial Composition can work well in the right hands (i.e. Babbitt, Webern), X is an example of a process setting boundaries but not letting it get in the way of — in fact fostering — a really neat result.
(And I just noticed that the first letter of each title spells out "REMIXES." Good job, boys.)
Comments and Feedback: