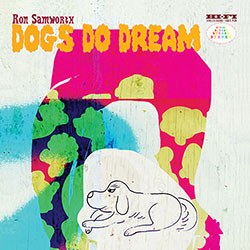 Most of us have considered what life would be like from the perspective of our pets. Vancouver guitarist Ron Samworth takes the speculation several steps further, creating a concept record of life inside a dog's head, in particular, the dreams that a dog might experience. He introduced the suite at, appropriately, a venue named Barking Sphinx during the Vancouver International Improvisation Festival in 2015, recording this studio version in 2016 with a who's who of Canadian improvisers. The core ensemble is Ron Samworth on guitar, Peggy Lee on cello, JP Carter on trumpet, Tyson Naylor on piano, keys and accordion, James Meger on electric & acoustic bass, Skye Brooks on drums, and Barbara Adler narrating the voice of the dog. Guests include Dylan van der Schyff on drums, Wayne Horvitz on keys, Bill Clark on trumpet, Iris Pomeroy on voice, Torsten Muller on bass, and Robin Holcomb on piano.
The music runs the range from lyrical free improv, atmospheric soundscaping, ea-improv, and even one section of driving rock . The album seamlessly takes the listener on a journey through modern improvised, compositional and experimental terrain. The narrative introduces concepts and the compositions fit each section, the music truly taking center stage as the focus of the album. The diversity of the narrative gives Samworth great settings to orchestrate, and he approaches each challenge with imagination and diversity.
The album starts with our protagonist dog entering the sleep state in a pleasant melodic passage ("Sleeping") then entering into his dreams in an eccentric descent into dream state through extended acoustic techniques and electronics ("Rapid Eye Movement"). Each chapter that follows is an imagined dream, detailed through narration, and running the gamut of probable canine interests, some of them quite explicit: swimming, chasing prey, reflecting, mounting a bitch in heat, sniffing out evidence other dogs, relieving itself, fighting with another dog, etc. Samworth states that he wrote each text from his observations of dogs, and each section is dedicated to a Vancouver location, and some even to the specific dog that inspired it.
Notable performances come from cellist Lee, particularly on "Gulls, Gills, Guts". "Rapid Eye Movement" take's Lee's cello and our fictional dog far out into ea-improv territory with an abstract descent into our dog's mind complemented with unusual electronics. "The Underbrush" takes the music into, aptly enough, Miles Davis Bitches Brew territory, the band working over a strong groove from Brooks and Meger, as Carter takes the lead. For the most part Samworth unassumingly integrates with the ensemble and guests, but "Fighting" brings him to the foreground in driving riffs that carry the concept into rough and tumble territory.
Samworth is a vital part of the Canadian improv scene, leading the group Talking Pictures, and co-leading the 15-piece NOW Orchestra. He performs regularly at international festivals, and also composes and designs sound for theater, film and dance. It's the interdisciplinary experience that he brings to this work that makes this such an effective work of music. Samworth proves himself adept at both scoring the music and at creating a compelling narrative for his subject. The balance of active and passive sections makes this an outstanding set of compositions, the narration guiding and engaging the listener without overindulgence or excessive subtlety, and by using a relatively sparse narrative, bears repeated listens and discovery of the rich nature of his music.
Comments and Feedback: