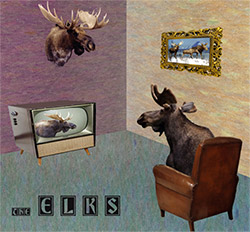 Does humor belong in music? More tellingly, does humor belong in electroacoustic improvisation? If you name your collective The Elks and your group photo for the inner CD gatefold paints you as refugees from a Black Oak Arkansas revival, then I guess the answer is yes. The interior collage is a real hoot — enthusiasts of both EAI and electronic music in general haven't seen anything like this since cut'n'paste techno-pranksters Rancho Relaxo Allstars mucked about the Disko B stable. The album title also revels in a sort of hysterical perplexity. What is the meaning here? The four tracks contained within this record's fairly concise duration (just over a half-hour running time) surely scrapple about far more luxuriously than even the most industrious insect, and the attendant noises, rattles, bleets, and blurts suggest an army of loose-limbed critters, so perhaps the title is a realistic analog to the music. If not, well, then the joke might very well be on us.
It wouldn't be germane to the aural plotline to classify The Elks as your typical EAI japesters. Clarinettist Kai Fagaschinski has amassed quite the dossier, appearing on a large number of dates across the improvisational/avant spectrum, as has bassist and electronics player Billy Roisz, who's done solid work with the remarkable digital-daytripper outfit Efzeg. Marta Zapparoli, who acquits herself quite demonstrably here, is The Elks's resident dadaist, bringing her broad collection of sounds to the table via a wide manipulation of tapes, tape machines, and various other sundry devices. And Liz Allbee completes the 'horn section' thanks to her errant trumpet spittle and splatter, the outgrowth of which is subtly altered through any number of discrete 'preparations' (as the digipak's back cover notes). Much confrontational affect, fire-stoking deliberation, and plain old exploration is brought to bear by this engaging quartet, a mischievousness that's on full display.
Sorry, though — japesters these characters sure as hell ain't. The Elks are drop-dead serious, but their tongues are soldered firmly in cheek, regardless. "Gremlins in Space" works a slow-burning miasma of hard drive hum pelted by stinging acid rain and the staccato breath-burps traded between Allbee and Fagaschinski. The fourteen-minute "Noise for Slugs" finds the foursome getting their hands oily thanks to a preponderance of expelled valve gas, slippery silicon leakage, and exposure to the kinds of glitched-out digital effluvium beloved by the likes of the old Mego crew, or Musica Elettronica Viva in a particularly randy mood. "Oceanic Bathtub" would have you luxuriate in its 50s sci-fi faux theremins and Forbidden Planet-birthed moodstates while your psyche shucks off this mortal coil, while the closing "Scuba Diving Elephants" recasts the last 15 years of EAI with breathtaking sweep, weird as all get out, content with letting the sounds themselves dictate the finale irrespective of the players. It's as if a new sonic playing field opened up in the digital ether, self-sustaining, self-replicating, experimental music's singularity writ large.
All chuckles, guffaws, and smirks aside — this is brilliant stuff.
Comments and Feedback: