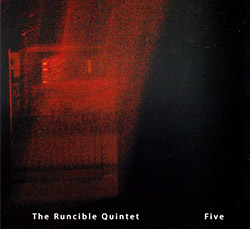 The Runcible Quintet consists of soprano saxophonist Adrian Northover, flautist Neil Metcalfe, acoustic guitarist Daniel Thompson, double bassist John Edwards and Italian-born drummer Marcello Magliocci. The five are London-based and all are members of the London Improvisers Orchestra (LIO) which convenes monthly for a performance. The LIO has spawned many a spin-off ensemble (including Barrel and Stellari String Quartet, to name but two.) Because of the empathy engendered by their members regularly playing together in LIO, such groupings have tended to work well together, the Runcible Quintet being the latest example of that pattern.
Fivewas recorded in April 2016, at I'klectik, a performance venue favoured by LIO, just across the Thames from Big Ben. The album consists of five tracks, somewhat unimaginatively entitled "One", "Two", "Three", "Four" and "Five", totalling under forty-five minutes. All of the music was freely improvised by the five players. Although the quintet's instrumentation may suggest a front line of saxophone and flute supported by a rhythm section of guitar, bass and drums, the reality is far freer and looser than that, with all five players improvising throughout. On "One", their playing is tentative as they feel their way, hinting that this is not a well-established quintet. By "Two", they sound more assured and the music starts to flow freely, kick-started by a sprightly, assured flute passage from Metcalfe that seems to relax everyone. "Three" and "Four" are longer pieces that form the heart of the album; throughout each of them, the five engage in a series of animated exchanges that radiate confidence and the sheer joy of playing together; interchanges between flute and saxophone are particularly noteworthy. "Five" is a brief end piece that draws the album to a satisfying conclusion, and leaves the listener wanting more.
The music on Five is good, old-fashioned improv that could easily have been recorded in any year from the mid-seventies onwards. It augurs well for future albums from this quintet. Sharp-eyed readers will have noticed that the word "runcible" is borrowed from the comic writings of Edward Lear. The word itself is a piece of Lear nonsense without any agreed meaning, often being attached to non-existent objects such as the "runcible spoon" of Lear's best-known work The Owl and the Pussycat. We must hope that its inclusion in this quintet's name is not intended to signal that the group was a one-off and is actually non-existent itself. More, soon, please.
Comments and Feedback: