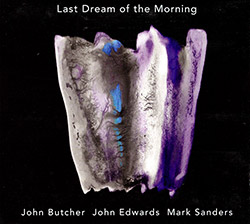 The trio of saxophonist John Butcher, bassist John Edwards and drummer Mark Sanders has deep roots dating back years. As early as 1996, Edwards and Sanders were playing together as the rhythm section in Evan Parker's quartet, a role they repeated many times over in a range of groupings, eventually leading to them being nicknamed 'the Sly and Robbie of improv', the only pairing that seriously challenged them for that title being Edwards with drummer Steve Noble. Although Butcher and Sanders spent their teenage years in the same South London suburb, they didn't meet until years later and only played together later still, first recording together with Steve Beresford in 1993. It was not until 2008 that the saxophonist and drummer recorded together again, a duo for the Treader Duos compilation, followed by a full duo album, Daylight, for Emanem in 2012. Interestingly, the symmetry is completed by two further Emanem duo albums, both released in 2003, Optic by Butcher and Edwards, and Nisus Duets by Edwards and Sanders, plus the latter pair's 2015 album JEMS for Treader.
Despite such extensive links between the three, they do not play together as a trio often, and Last Dream of the Morning is the first release of them together, making it an invaluable piece in the extensive jigsaw that documents the improv universe. It was studio-recorded in November 2016 at The Fish Factory in Willesden, London, and features five tracks varying in length from just over four minutes to nearly eighteen, a total of some fifty-two minutes. Straight from the start of the opening track, "Lucid", it is clear that we are in for a treat. All three players sound in top form, playing with energy, fluidity and empathy. Butcher in particular plays throughout the track's seven-and-a-half minutes, without any of the pregnant pauses for reflection that can sometimes punctuate his music. In that time, he showcases his tenor playing, employing a range of techniques that are seamlessly integrated into a flowing tour-de-force performance. As always, Edwards and Sanders are equal partners in the creative process, maintaining the rhythmic pulse but doing a great deal more than that. Always working as a team, the three all contribute equally to moving the music forward.
"Syphon", the next track, is of similar length, but is a total contrast to the first, with Butcher's playing being far more subdued and integrated with the bass and drums. Again, all three players are equal partners and the track highlights the quality of the recording as each can be heard with crystal clarity throughout. Next up, "Sand Dance", the album's longest track, features several Butcher solos that highlight differing facets of his playing; these are interspersed and punctuated by solo passages featuring Sanders and Edwards, so the piece does not turn into a one-man show, but spotlights the trio separately and together. Altogether, that also neatly sums up the album — three outstanding players, each of whom is captivating on their own but who complement one another so well that together the whole far exceeds the sum of the parts.
Comments and Feedback: