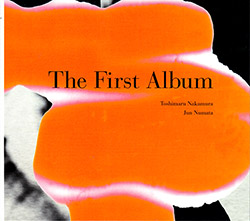 "An improvisation for about 30 minutes" performed by Jun Numata on guitar, oscillator and radio, and Toshi Nakamura abusing his no-input mixing board. Harsh, chopped up wads of electronic storm manifested by frying circuits and oft-times resembling warning sirens or amped-up video game soundtracks. Eschewing the monotony of HNW aesthetics, Numata and Nakamura here unroll a constantly shifting tapestry of grinding, screeching howl.
If you're familiar with noise music technique you may be able to make out individual actions, but it seems more fun just let it all melt together. Recognizable radio broadcasts pepper the first couple of minutes but very quickly are buried or manipulated into unintelligibility. There are a few longish sections of sustained tones alongside fields of static and brief snatches of definite guitar mangle.
The First Album is perhaps among the rowdier selections from Nakamura's history, though I confess I have not perused it all. This outing seems closer in spirit to ye olde free jazz than anything else — a brief fevered attempt to wrestle the keys from cold dead hands and jangle them anew.
Comments and Feedback: