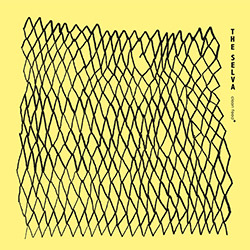 The Selva's debut album is nothing if not enigmatic, in which lies much of its charm. It's a multipart journey, a suite really, in which the music is as diverse as the recording is impeccable. The trio consists of cellist Ricardo Jacinto, double bassist Goncalo Almeida and drummer Nuno Morao, and much more than that is difficult to render with consistent clarity as the disc progresses.
The first track throws the listener headlong into a world of vague pan-geographic reference as string players slide, glide and duck amidst sharp percussion staccato. By the starkest contrast, the second part sounds as if it could be a chamber music composition by Arvo Part with a little Krzysztov Penderecke thrown in for good measure. At times, the group demonstrates the rhetorical devices traditionally associated with improvisation, namely in much of the third section. More often though, it can be difficult to tell exactly which instrument plays which role and to what ends. In the eighth part, stereo placement informs me that bass is on the left and cello on the right, or at least that is how it has been throughout the disc, but only that bit of remembrance can be relied upon to assign sound to player. What actually emerges conjures memories of a particularly poignant Vision Festival moment, when Hamiet Bluiett and Kidd Jordan hit the stage playing "Cherokee" in the highest register possible, to the point that instrument type became irrelevant. The Selva take a page out of that book, as high-register supplications and exhortations evolve and devolve across a soundstage in which only percussion is readily identifiable.
One of the strangest and most fascinating things about the disc is the subtlety with which environment seems to change. Nothing radical occurs, but the sense of reverberation seems somewhat malleable as the performers change roles, adding a layer of intrigue to an already absorbing set of pieces. This is not a disc of solos; rather, group unity seems to be the order of the day, and anyone interested in an exemplary model of the way spontaneous interaction breeds unity need look no further.
Comments and Feedback: