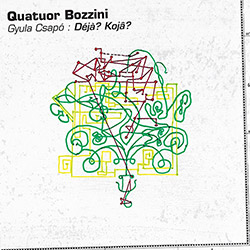 Csapó is a Hungarian-born composer (b. 1955) living in Canada since 1990 who studied with Morton Feldman at SUNY Buffalo and also with John Cage. His 'Déjà? Kojâ?' ('Already? Where [to]?'), for string quartet, is presented in three sections totaling about 73 minutes long.
As the brief notes from Csapó point out, it's essentially a dirge, though one which fluctuates from sorrow to ecstasy. The "Kojâ" in the title comes from a ghazal by Hafez, which seems to posit human life as a "threshold" before true existence. I find it very difficult to otherwise describe the music. It's not very much akin to that of Feldman (especially the string quartets) and even less like (most) Cage. Though we hear lines that are pulled and stretched, there's far more changeability in melodic line and attack crammed into any given 30-seconds than you'd find in an hour of Feldman. More importantly, Csapó, if not quite wearing his emotions on his sleeve, doesn't shy away from content that is almost necessarily heard first as emotional, then abstractly. The strings surge, offer plaints, sigh and subside; it's fundamentally sad, stirring music. The structure is flowing and loose, like a slow camera pan over a troubled landscape. The first movement works itself up to quite a fever pitch about 3/4 the way through — one can easily imagine the thrashing about of grieving souls — before settling back down to a more general level of despondency, ending with high, ghostly whines.
'Second Parte' is pitched somewhat higher, contains more agitation, with pizzicato scurries and brief, clipped lines and overlapping glissandi voiced in the violins' upper registers. It gradually shifts to the most subdued music in the piece, plaintive sighs studded with questioning plucks. The final portion is actually calm, perhaps even resigned. The texture is thick and creamy, very complex and lovely, the phrases almost conversational, as though discussing and contemplating that aforementioned threshold, but doing so with little apprehension. It ends with quiet acceptance.
Comments and Feedback: