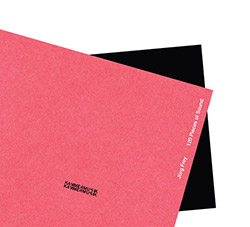 120 Pieces of Sound marks Swiss composer Jürg Frey's first release for Yuko Zama's impressive elsewhere records. The album includes two Frey pieces, "60 Pieces of Sound" and "l'āme est sans retenue II". The latter track is what initially attracted me to the album, as I really enjoyed the first part which was released by erstwhile records in 2017 as a six hour, five disc collection (there's a third part as well, and though I haven't yet obtained a copy yet, I intend to do so). However, after hearing "60 Pieces of Sound" I'm as much enamored with it as with the second track. Both pieces are excellent examples of Frey's work, and they nicely complement and contrast each other. Frey recorded "60 Pieces of Sound" with Boston ensemble Ordinary Affects using traditional instrumentation, while "l'āme est sans retenue II" is based on field recordings taken around Berlin with undercurrents of Frey's barely discernable bass clarinet. The common ground of the two recordings is the artist's use of protracted silences to differentiate and accent the movements, thus creating a sort of aural non-zero sum game.
On "60 Pieces of Sound" Frey and cellist Laura Cetilia play the pitches of the melody over which the rest of the Ordinary Affects ensemble is free to play a pitch of their choosing. This combined with the silences presents an aggregate that is both harmonious and dissonant, depending on the undetermined pitches selected. The long pauses give the resulting chords room to breathe and decay, creating space and softening the edges (especially when the chord comes off as particularly dissonant). The melody itself, while buried and slowly developing, gives the piece a sense of forward motion and advancement, and I'm not sure that it would work as well without it. Of the piece "l'āme est sans retenue II", I am reminded of sleep during travel. Drifting off and then coming to, the sounds familiar and consistent but slightly different after each pause. These disparate (I use this term extremely loosely here) sounds are tied together with a light undercurrent of bass clarinet which is almost transparent unless you know what you're listening for. In contrast to the first part of "l'āme est sans retenue" the pauses here feel fairly uniform in length, and the sounds presented on the field recordings feel a bit more homogeneous, making for a more meditative (if that's possible) listen.
All in all the record is a very satisfying listen, combining a (relatively) melodic ensemble piece with Frey's more experimental (again, relatively) approach to composition on the second half. Kudos to Yuko Zama for getting the second part of "l'āme est sans retenue II" in the hands of the listeners and for her curatorial talents in general, as her label has released some exceptional music thus far. A most welcome release from a label we'll all be watching closely in the coming years.
Comments and Feedback: