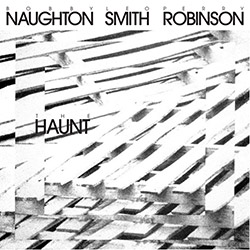 A very welcome reissue of a small classic from the New York City loft scene of the mid-70s, first released on Otic Records. Vibraphonist Naughton was an habitué of that scene, appearing regularly around town as both leader and sideman, but went into semi-retirement from music shortly thereafter, popping up now and then in ensembles led by Anthony Braxton or Leo Smith. Smith is on this session, along with clarinetist Perry Robinson, performing six compositions of Naughton's.
The instrumentation, as well as Naughton's basic approach, lends the session something of a chamber-jazz feeling, echoing, say, Jimmy Giuffre's trio of the early 60s, the pieces perhaps tinged by influence from Carla Bley (Naughton worked with the JCOA a little bit). The Robinson/Smith pairing is especially piquant, the former with warm, traditional roots no matter how far out he takes things, the latter offering more astringent tones, though always bearing echoes of Mississippi. Naughton's pieces tend to be slow, lyrical and ruminative, his vibes pretty mellow and sustained, allowing the horns to seesaw in and out of unisons, their lines plaintive and songlike. There's little soloing as such, all members of the trio playing more or less all the time, though with a fine sense of space and of stepping aside or restricting their note quotient when appropriate. The tunes range from elegiac (the title cut and 'Ordette', the last serving up some of Naughton's loveliest playing) to jaunty and playful ('Slant', with echoes of circus music) to pensive and dreamy ('Rose Island'). To these ears, Robinson may never have been better represented on disc and Smith, at this point in his career, turns in a performance every bit as strong and incisive as he had on Braxton's Trio & Duet (Sackville) from a couple of years prior.
A rich, imaginative recording — wonderful to have it back in circulation.
Comments and Feedback: